One Simple Trick Can Solve Most Puzzles in Tears of the Kingdom
Like water under a really long bridge.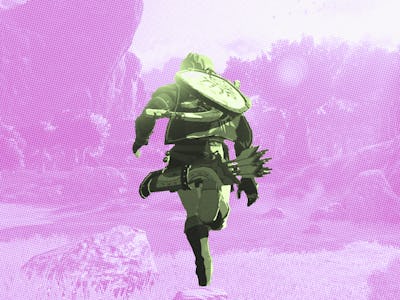 Lais Borges/Inverse; Nintendo
In Tears of the Kingdom, the greatest tool players have is their imagination. Thanks to Fuse and Ultrahand players can make complex weapons and vehicles to help them navigate the many puzzles found in the expansive world of Hyrule. But, what if, instead of doing any of that, you just build a really long bridge? That is what many players are doing, and in addition to being great fun, it can be a reliable trick to solving many problems you'll encounter in Tears of the Kingdom.
Many player creations have already come to light after the release of Tears of the Kingdom that I cannot imagine the developers ever anticipated. (How in the world could you predict the masochistic desire to torture Koroks?) But one intended use of the new ability Ultrahand, which lets Link pick up and attach objects to each other, is to build bridges.
There are a lot of gaps in the landscape of Hyrule and building a makeshift bridge out of a couple logs of wood can help you in a pinch. But why stop at two or even three logs? Why not build the longest bridge you can? Which is very very long as players have found out.
While this is hilarious and speaks to the Garry's Mod-esque fun that the physics-based mechanics of Tears of the Kingdom allow for, it also makes for a simple way to skirt around plenty of issues. Bokoblins are expecting you to attack them head-on, not use the largest ladder they have ever seen to sneak into a fortress and wreak havoc on them.
It is also useful for traversal, which is a key challenge in Tears of the Kingdom. But building big bridges lets you finish shrines in unintended manners or just avoid conflict altogether. I think Death Stranding's Sam Porter Bridges would appreciate Link's ingenuity in navigating the rough world of Hyrule.
The benefits of this bizarre strategy extend to how easy it can be to do this. You don't need any Zonai Devices or even wood. Just find any object in the world and you can probably attach it end to end with other things to make a bridge. It never stops! Sadly, these bridges are not permanent and as soon as you leave the area where you placed your beautiful creation it will disappear. Some players have gotten around this issue by just hauling it along with them wherever they go.
As prolific as the obsession with building bridges in Tears of the Kingdom is, this unintended strategy can stand in for countless other player discoveries that have helped make the journey through Hyrule easier and more fun. It reveals what makes Tears of the Kingdom that much better than its predecessor — a devotion to player freedom.
While each system is built with a purpose, it also is built to be a single system amongst many — all of which interact together in specific ways. Building cars and planes is the expected use of these systems, but while there is an intended use there is by no means a wrong way to make systems interact.
Other games invite players to play by the rules, which can be fun but does not truly take creativity and innovation. Tears of the Kingdom hands the reigns over to the player entirely. As one tweet illustrates, the path of least resistance is an acceptable and encouraged way to solve problems. Especially when that path of least resistance comes in the form of really long bridges.
"It's dangerous to go alone!" Check out more of Inverse's Tears of the Kingdom coverage: