Hey, Listen! The Best Music to Vibe to While Playing Tears of the Kingdom
Groove is in the heart (container).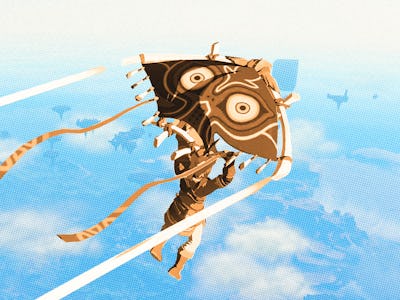 The Legend of Zelda: Tears of the Kingdom is packed full of things to do, with a wide array of objectives and stories that evoke various emotions. The game does a great job of setting a mood with its music, but it also does so with its visuals and gameplay.
Because of this, you don't always need to stick solely to the game's soundtrack. There's something so deeply satisfying about listening to your own tunes while gliding around Hyrule, or during more intense sections beneath the surface. With that in mind, we've rounded up the six best records to listen to while playing Tears of the Kingdom.
1. Mikel — Zelda & Chill II
Kicking things off is a record specifically with The Legend of Zelda in mind. Mikel's Zelda & Chill II is comprised fully of remixes of beloved Zelda songs such as 'Zelda's Lullaby,' 'Korok Forest,' and 'Hyrule Castle,' making it perfect for this game.
As the record's name suggests, these tracks are "chill," allowing you to easily sink into the beauty of exploring Hyrule. What better way to play Tears of the Kingdom than with songs specifically made for Zelda?
2. Daft Punk — Discovery
Part of the fun of roaming Hyrule in Tears of the Kingdom is getting into a zen-like state, as you settle into a mood full of wonder and discovery. Few records mirror that mood as well as Daft Punk's Discovery from 2001.
This record is optimistic and ambient, while also continuously pulsing forward thanks to each track's thumping beat. As arguably the greatest electronic group of all time, Daft Punk knows how to establish a groove that encourages movement — in this case, the act of taking in all the sights and sounds of Hyrule.
3. 65daysofstatic — No Man's Sky: Music For An Infinite Universe
65daysofstatic's No Man's Sky: Music For An Infinite Universe is yet another incredible collection of tracks that evoke a curious mood. While this record is specifically designed with space exploration game No Man's Sky in mind, it works just as well while playing Tears of the Kingdom.
One of the best things about this record is the vast array of emotions it covers. One song, such as 'Asimov' might start out with an upbeat drum arrangement, before ending in an almost poignant tone. Tears of the Kingdom isn't all smiles — it's sometimes sad and scary, and this record truly exemplifies that.
4. Plini — Handmade Cities
Next up is an instrumental progressive metal album called Handmade Cities by Australian artist Plini. Regarded as one of the most important modern guitarists, Plini is known for creating "happy metal," which still features low-tuned riffs with more of an emphasis on melody.
With that in mind, Handmade Cities fits well with Tears of the Kingdom, especially during moments when Link is soaring through the air after diving from one of the Sky Islands. It's a triumphant record with an underlying feeling of hope, perfect for those attempting to scale to the top of a mountain or conquer a tricky Shrine.
5. Taylor Swift — Folklore
Most of the records we've suggested thus far don't have much of an emphasis on vocals, but Folklore is an exception. This album is Swift's most experimental, focusing more on storytelling than before.
Because of this, it tends to line up nicely with Tears of the Kingdom, particularly the more melancholy moments that pull at your heartstrings. Though, like the game, Folklore isn't all full of sorrow, covering other emotions, while retaining a generally elegant quality throughout. It's a record that never feels like it's in your face, allowing it to sink into you, just like many aspects of Tears of the Kingdom.
6. Protest the Hero — Fortress
Tears of the Kingdom isn't always chill. It's easy to forget about the action-packed moments, such as Link battling gigantic creatures from within a firey volcano. For the game's more fast-paced sections, we can't recommend anything other than Protest the Hero's 2008 masterpiece, Fortress. Tears of the Kingdom is a game in which anything can happen, and so, too is Fortress, a progressive metal record full of in-your-face guitar riffs and guttural, jubilant vocals.
Though, you aren't only restricted to listening to this record during battles — riding through the fields of Hyrule on horseback pairs nicely with this album, particularly more adventurous tracks like 'Bone Marrow.'
"It's dangerous to go alone!" Check out more of Inverse's Tears of the Kingdom coverage: