Xbox Game Pass vs. PS Plus: Price, tiers, demos, and exclusives explained
Sony and Microsoft both have a lot to offer, but what differentiates the two services?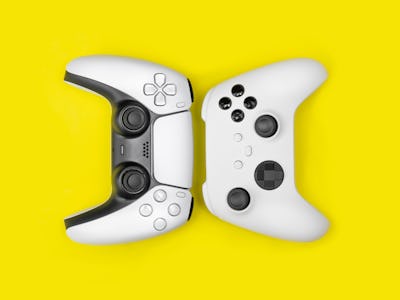 Shutterstock
Sony may be in the process of overhauling its PS Plus service, but when things shake out, how will it truly compare to Microsoft's Xbox Game Pass? While PS Plus has had some rollout problems in other countries, the service is set to launch in the U.S. on June 13 and in Europe on June 23. The biggest change is the inclusion of many features that were once part of PS Now, making PS Plus a stronger Game Pass contender. Here's a closer look at what differentiates the two services.
Price
The new PS Plus has a low-end price of $9.99 monthly or $59.99 yearly, and a high end of $17.99 monthly or $119.99 yearly. The disparity in price — twice the amount for the high-end — comes down to the new way Sony organizes the entire service. Paying the $9.99 price tag means you get fewer benefits compared to members who shell out for the high-end price.
Similarly, the regular version of Game Pass will run you $9.99 monthly. Game Pass crucially does not offer annual pricing, so this comes out to a little under $120 for a year of Game Pass. The high-end costs $14.99 which translates to about $180. Microsoft does have a $1 a month three-month deal for new members, and this gets you all the highest tier features.
Tiers
Both PS Plus and Game Pass have different tiers that come with distinctive features and different prices. For Sony, the three tiers are Essential, Extra, and Premium.
PS Plus Essential gives members access to free games every month as well as store discounts, cloud storage, and access to online multiplayer.
PS Extra adds a Game Pass-like catalog of PS4 and PS5 games to play.
Premium adds on to this catalog with access to PS3 game streaming and a collection of PS1, PS2, and PSP games being made available to players who splurge on this tier.
Game Pass has two base tiers, PC Game Pass and Xbox Game Pass for Console. Both offer access to the catalog of Game Pass games available for the chosen platform your membership is on. The only difference between the two is that PC Game Pass also includes EA Play membership.
The high-end tier, Xbox Game Pass Ultimate, provides full access to the Game Pass catalog on both PC and console. This includes EA Play as well as Xbox Live Gold memberships. Of note is that Ultimate also allows members at this tier to play games from the cloud.
Perks
Both Sony and Microsoft offer exclusive discounts to members of their respective services. While Sony is still catching up, Game Pass is pushing what these services offer beyond games.
Xbox just announced that it will be partnering with Samsung to bring the Xbox app to 2022 Smart TVs. This will allow those with a Game Pass Ultimate membership to play cloud-enabled Game Pass titles without a console. Starting on June 30, players will be able to launch the app, connect a controller, and start playing. This came in tandem with the news Xbox will bring the ability for members to play certain games from the cloud that they already own or purchased outside of Game Pass.
Furthermore, Xbox announced "Project Moorcroft." This program will bring curated demos of upcoming games to Game Pass. The program is set to begin rolling out within the next year with a focus on providing independent developers opportunities to build excitement around their games. Xbox isn't just paying these developers in exposure and is committing to compensating developers who participate in the program.
Game library
Depending on which tier of PS Plus you choose, the library of games you have access to changes dramatically. Essential players get only the monthly PS Plus selection. Sony's Game Pass competitor really only applies to the Extra and Premium tiers who get access to a catalog of PlayStation games.
Extra members will get over 400 PS4 and PS5 games to choose from. However, at launch, the list will be much shorter at a little over 50 titles.
The most appealing prospect of Sony's new service lies in Premium which offers access to games from previous console generations. Again, at launch, there will only be a smattering of games, most from the PS3.
Xbox Game Pass gives access to its entire library no matter the tier. That is a collection of over 400 games.
Exclusives
The one place Sony might have the upper hand over Xbox is the catalog of games in their back pocket. Sony has always been the king of first-party exclusives and the new PS Plus service aims to bring many of these games to new players.
Some of the notable franchises are Uncharted, Infamous, and Jak & Daxter. Not to mention console exclusives like Bloodborne and Demon's Souls. As the list continues to grow, we could see series like Suikoden or Sly Cooper make their way onto the service. Crucially, Sony does not offer new games as day one releases.
Game Pass gives players the opportunity to play classic Xbox franchises like Halo and Gears of War. However, one of the most exciting things about the Game Pass library is the amount of incredible indie games on the service. Just this year some of the best games to be released where all day one Game Pass releases. NORCO, Citizen Sleeper, and Tunic are all amazing experiences that more players have access to because of their inclusion on Game Pass.
Game Pass offers an unparalleled catalog of diverse games to players across numerous platforms, even with a higher price for the Ultimate tier, the value is incredible. For those who only have a PS4 or PS5, the new tiers of PS Plus offer the promise of access to Sony's wealth of exclusive games, but it isn't fully realized yet.