Every Star Wars Game on Xbox Game Pass, Ranked From Best to Worst
On a subscription service in a galaxy not so far away.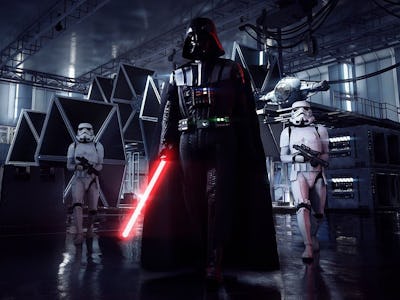 Electronic Arts
There's something to be said about the quality of recent Star Wars games. There used to be a time when the market was oversaturated with games from the beloved series, and many of them were downright bad. But recent efforts have made it exciting to be a fan, most notably with Star Wars Jedi: Survivor. However, you don't need to shell out $70 to play the latest Star Wars games if you're an Xbox Game Pass subscriber. That's right, the lineup is packed with Star Wars games that are worth your time, and here, we'll rank the very best entries on the list.
5. Star Wars Battlefront
The 2015 version of Star Wars Battlefront is a bit infamous since it forgoes a single-player campaign in favor of competitive multiplayer battles, but if you can get past that, this game is quite fun. The first-person shooting is solid, the presentation is top-notch, and the character selection is fantastic, allowing you to choose from Luke Skywalker, Darth Vader, and a slew of others. It's a little light on content but worth checking out.
4. Star Wars Battlefront II
While Star Wars Battlefront II is objectively a better game than its 2015 predecessor, much of the conversation around this game was dominated by the loot crate controversy. These loot crates were actually removed and the microtransaction was overhauled to improve the player experience. Since its release, EA added a boatload of content, making this feel like a hefty package, complete with a single-player campaign, as well.
3. LEGO Star Wars: The Skywalker Saga
LEGO Star Wars: The Skywalker Saga is the ultimate experience, allowing players to relive all nine mainline movies. While the LEGO games might be marketed for kids, The Skywalker Saga's combat is surprisingly complex, offering enough challenge to even the most skilled players. It features over 300 playable characters and covers each of the nine films in great detail, while also including that heartwarming LEGO humor.
2. Star Wars: Squadrons
The previously mentioned games all keep your boots on the ground (mostly), but in Star Wars: Squadrons, you play the entirety of it from inside a cockpit. This space combat game allows you to play as either the Galactic Empire or the New Republic, with an in-depth single-player campaign that takes place after Return of the Jedi. You can also test your skills in the competitive online PvP mode, which is an exhilarating experience.
1. Star Wars Jedi: Fallen Order
Hailing from Respawn Entertainment, Star Wars Jedi: Fallen Order is easily one of the best games in the series. It features an incredibly polished story, a new Jedi Padawan named Cal Kestis, and fantastic action combat that feels similar to Dark Souls. It's a game that truly feels on par with the series' best moments and is a must-play for any Star Wars fan. Make sure you play it before checking out its sequel, Star Wars Jedi: Survivor, as well.