Xbox Game Pass Confirms 6 More New Games Coming in February 2023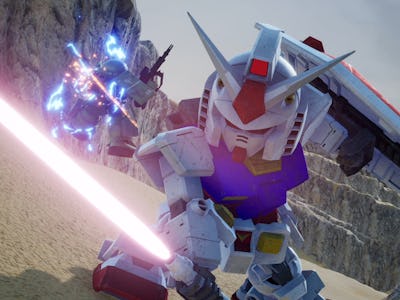 A new month brings new games on Xbox Game Pass. This February the groundhog did in fact see his shadow which, as we know, means six more games coming to Game Pass. That is double the number of games that came to the service in January! Amongst February's offerings are a pair of first-person shooters, a pair of excellent simulation games, an anime favorite, and the annual entry in a classic sports franchise. Here are all the games joining Xbox Game Pass in February 2023.
6. Madden NFL 23
February 9 (Console/PC)
Each year brings with it a new Madden game, and while the series could easily stagnate over the many entries — it keeps going. Madden NFL 23 is no exception, and one of the best entries in recent memory thanks to a plethora of new features that the developers have dubbed FieldSense.
Just in time for the Superbowl, you can prove that your favorite team could have gotten to the championship if you had just been in charge. EA Play and Xbox Game Pass Ultimate members can also score a Supercharge Pack by logging into Madden Ultimate Team before March 9, 2023.
5. SD Gundam Battle Alliance
February 9 (Cloud/Console/PC)
2022 was a great year to be a Mobile Suit Gundam fan. In addition to one of the best anime series the franchise has seen, there was also more than one great video game to get your hands on. SD Gundam Battle Alliance is "The series' best game in 15 years" as we put it in our glowing review.
The setup for the game is that all Gundam timelines are crossing over on each other, letting you conduct missions alongside the franchise's iconic Gundams. The game is an action RPG that combines its many systems into an overarching combat loop that feels both fast and responsive, capturing the same high-octane feel of the anime.
4. Mount & Blade II: Bannerlord
February 14 (Cloud/Console/PC)
If you are looking for the perfect game to satisfy that desire to play war with toy soldiers, just on a larger scale with better graphics than Mount & Blade II: Bannerlord is the game for you. Combining the large-scale battle simulation that you might find in the Age of Empires series with deeper RPG systems and storytelling, Bannerlord is perhaps the best medieval game there is. It improves nearly everything from the first acclaimed game in the series and is a welcome addition to Game Pass.
3. Cities: Skylines - Remastered
February 15 (Cloud/Xbox Series Consoles)
If combat simulation isn't your thing, but detailed city planning is then Cities: Skylines - Remastered is the perfect game to pick up now that it is coming to Game Pass.
From Paradox Interactive, the masters of sim games like the Crusader Kings and Victoria franchises, Cities: Skylines is regarded as perhaps the best city builder to ever be made. This remaster brings the critically acclaimed game to modern hardware. You will be able to build anything you want, from a small town to the largest metropolis around.
2. Shadow Warrior 3: Definitive Edition
February 16 (Cloud/Console/PC)
This first-person shooter lets players explore a world inspired by Asian myth where you can take out enemies with a massive arsenal of firearms as well as a katana. Shadow Warrior 3 is the perfect game to pick up thanks to its shorter runtime and delightful combat and traversal systems.
The story doesn't take itself too seriously and lets players enjoy the fantasy of becoming an overpowered character who can wipe the floor with the competition.
1. Atomic Heart
February 21 (Cloud/Console/PC)
Releasing day one on Game Pass, Atomic Heart is a new first-person shooter that focuses on crafting your weapons with items found in the game world. The game takes place in an alternate timeline in 1955 when the Soviet Union begins to develop extremely advanced robots and artificial intelligence. The player is sent to a facility plunged into chaos and tasked with putting a stop to the onslaught of robots and other unknown science experiments.