How Madden 23 devs recreated "every pore, every geometry" of the football icon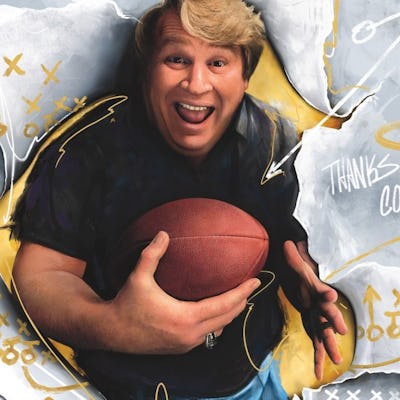 John Madden hated flying and wasted potential.
The player, analyst, coach, broadcaster, and showman continually redefined how football was seen and discussed until his passing in December 2021. From coaching the Oakland Raiders to a Super Bowl championship in 1976 to providing commentary and analysis for thousands of games over three decades, Madden brought a new level of technical know-how to the pigskin experience. Though he retired back in 2009, he's remained in the zeitgeist in part due to the video game franchise that shares his name.
Decades after the very first game launched for the Apple II, EA Sports Senior Producer Michael Maher says Madden's example continues to be a guiding light for the development teams.
"If you've ever seen him coach, or if you've ever heard him broadcast, he's one of a kind," Maher tells Inverse. "He's an inspiration to us of what good looks like."
Since 1988, the Madden video game series has released 41 editions and sold more than 130 million copies. It's evolved from simple pixel art into a remarkably intricate simulator that's constantly redefining the cutting edge of video game visuals and physics. It's the de facto game for football fans, pulling in many players who would never touch a console otherwise. (EA's partnership with the NFL, which was renewed in 2020, makes it the only series able to include real-world teams and players' likenesses.)
It's hard to imagine the gaming landscape without Madden, but the franchise wouldn't exist at all without the legendary coach and commentator, who EA founder Trip Hawkins approached all the way back in 1984 to throw some prestige behind their idea for a football game.
His involvement in the series was more than superficial. Madden gave feedback on playbooks and plays on an annual basis. When Madden couldn't make it to the EA offices, developers would still make a point to come to visit him once a year. His uncanny eye for breaking down 11-versus-11 football into plays, calls, and logical conclusions added a sense of realism that's been instrumental to the series' success.
For the first time in two decades, Coach Madden is on the game's cover, in three different variations. Throughout the late 80s and early 90s, he featured prominently on the title screen and as an announcer, but he hasn't appeared much in recent installments of the series. He made a cameo in Madden 22 as a coach released to players for free but hasn't been an announcer on the title since Madden 09.
A brand-new mode for this year also sees dueling Maddens controlling all-star players as they duke it out in a 1970s Oakland Coliseum. Though EA has not revealed much about this mode just yet, players can expect to see a fully realized and rendered Madden in his coaching prime.
"How we were going to honor him was in the works well before his passing," Maher says. "We continue to work very closely with his family to make sure that we continue to imbue our game with his passion and outlook for the sport."
"He still looms large over everything we do daily and yearly."
To create as realistic an in-game model as possible to pay honor to their title patriarch, developers tracked down authentic '70s-era clothing, including belts and Adidas shoes he wore on the field. They even managed to get hold of his Super Bowl Ring. Using advanced 3-D technology, which involved putting small dots on the items and waving a wand-like device around them, the developers were able to recreate an impeccably accurate rendition of his old wardrobe. To recreate his physical likeness, the Madden team merged a scan of him from a previous iteration of the game with his bust from the Pro Football Hall of Fame in Canton, Ohio.
"We have a team of world-class artists here who will go in every pixel, to push and tweak every wrinkle, every pore, every geometry," Maher says. "Then we actually talk to his family. We don't stop until we are all satisfied that we've nailed it."
Advances in digital imagery have made it easier than ever to include realistic renderings of deceased celebrities in media. Sometimes it's effective, like Paul Walker's posthumous cameo in Fast and the Furious 7. Other times, it can be jarring and offensive, as the digital recreation of Peter Cushing's Grand Moff Tarkin in Rogue One.
To avoid any blunders, Maher says the inclusion of Madden's likeness in the series will have to "match what he's all about."
"When you see that happen in other forms when it's done well, people jump out of their seats." Maher said. "When it's not, it can go south pretty quickly."
Madden already has a precedent of including deceased players into their game, who can no longer share their input on their likeness. In the online multiplayer mode Madden Ultimate Team, players can use retired or deceased players, known as Legends, on their roster.
After the developers determine the best way to honor a deceased or retired player — and what fans of that player would actually enjoy — EA contacts the families, foundations, or trusts and explains their plans for the player's likeness.
"That's why if we do this in the future — probably more when than if — it'll be selective. And we'll just make sure that we do it right," Maher says.
Coach Madden's passing was a keenly felt loss to the game of football. Decades after he first set foot on the field, his legacy remains untarnished by scandal or controversy. Madden 23 hopes to honor that legacy and the great coach the world got to know.
"While time passes and he's kind of almost from a bygone era, he still looms large over everything we do daily and yearly on our game," Maher says.