Inverse Gaming Interviews
"Play is a fundamental human need": Xbox exec on the future of accessible gaming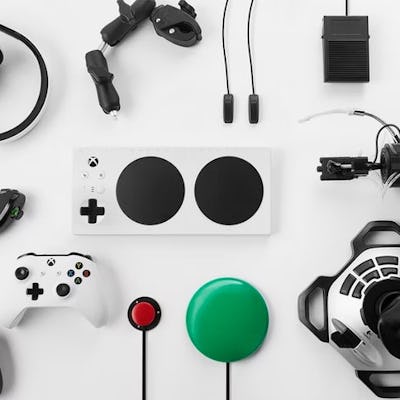 Accessible game design benefits all players.
Between The New York Times writing about Elden Ring, and the cultural moment that was Animal Crossing: New Horizons in the spring of 2020, the audience for gaming is bigger than ever. Storytelling, visuals, and mechanics have grown far more ambitious and diverse than anyone could have imagined during the "console wars" of the 1990s. But until relatively recently, the industry has been slow to adapt to the varying needs of players, favoring a one-size-fits-all approach to difficulty and input devices. That's left many disabled gamers frustrated, underserved, and left in the dark as to whether a game will meet their needs.
Even if you don't identify as a person with a disability, if you've ever squinted at tiny text, needed a helping hand on a tricky sidequest, or flung your controller aside after too many attempts at a fiddly button combo, robust accessibility options would probably help you enjoy games even more. Xbox Director of Accessibility Anita Mortaloni maintains that designing features with specific needs or barriers in mind can benefit all players.
"We believe that play is a fundamental human need. Not for some, but for all," Mortaloni tells Inverse. "That includes the over 400 million people with disabilities out there playing games."
Xbox has been at the forefront of gaming accessibility initiatives for the past several years, particularly on the hardware side. In 2018, the company launched its Adaptive Controller, the only dedicated first-party controller from a console developer that puts accessibility first. Starting in October 2021, Xbox also made it easier to identify games with accessibility features on its digital storefront, helping players with disabilities to avoid wasting money on games they can't play.
In the four years since the release of the adaptive controller, Xbox has not rested on its laurels. To mark Global Accessibility Awareness Day on May 19, 2022, Xbox released a blog post detailing its continued efforts in the space.
Mortaloni sat down with Inverse to talk about Xbox's ambitious plans for the future of accessible gaming.
This interview has been edited for clarity and brevity.
What are some of the new initiatives Xbox announced during this year's Global Accessibility Awareness Day in May?
We recently launched the all ASL (American Sign Language) channel on Twitch. It features about 25 hours of streams, mirroring the main Xbox Twitch channel. It creates a sense of community and allows people to experience these streams together. We got to partner with Sorenson [a leading provider in accessible communication solutions] and bring in gamers who are deaf to host on the channel and be a part of the experience. It really showcases that accessibility is more than just features.
Another initiative we shared is the BuildAbility world in Minecraft: Education Edition. In it, students can meet characters with diverse abilities and learn how to rebuild the game world to better serve the characters. We partnered with the Peel School board in Ontario, Canada to influence the next generation. They are not all going to be game creators, but we are going to influence how they will make a more accessible world. It speaks to the power of gaming, that we can provide people with a new lens to evaluate the world they live in.
"One of the great things about accessibility is that there's not always one answer."
How does Xbox help developers to consider accessibility in their games?
We want to make it easier for creators to include accessibility. If you bring in those new perspectives and meet with the community, you understand what those barriers are and start to realize the impact of accessible gaming. It means more people can play the game that you created, and experience everything that you just put a whole bunch of time into.
One of the great resources we have is the Xbox Accessibility Guidelines. The first version was released in 2019 and it was based on community feedback. We realized that there wasn't one place that had best practices for developers and designers to create accessible experiences.
With so many different game engines and bespoke tools used by developers, how does Xbox help streamline accessible development?
This year we announced our Gaming Accessibility Resource Hub. It's a central resource with everything from accessibility guidance talks, to guides on how to implement accessibility features in popular game engines. The goal is to help game creators, regardless of where they are in the development of their game or their accessibility journey.
The most important thing you can do as you start your accessibility journey is to partner with the community and put them at the center. Don't design for the community, but with them as soon as possible in the development cycle. One of the great things about accessibility is that there's not always one answer. There's no one tool out there that is going to tell you everything and magically going to make your game accessible.
"Many of these features are designed for one but extend to many."
When you say you partner with the community, how do you find those members of the community and give them a voice?
A great example is the Xbox Accessibility Insider League, which is a group of around 160 thousand members who identify as having a disability or being an ally of the community. It's where our creators can highlight features and get feedback directly from the community. That feedback goes to our engineering teams who incorporate it into the product.
How do accessibility features benefit all gamers, even those without disabilities?
Within disabilities, you have permanent disabilities as well as temporary disabilities. If you break your arm snowboarding and you have to use your non-dominant hand now you can't use a keyboard and mouse or a standard controller anymore.
Then there are situational circumstances. Maybe after a long day at work staring at a screen, Night mode is your preferred way to play because it won't hurt your eyes. Many of these features are designed for one but extend to many. We just want to create a platform where people can play however they want — that can change during the day or your lifetime.
"We are going to continue to put accessibility first and make it an embedded part of our culture."
What more should the gaming industry at large be doing to advance accessibility in the community?
Accessibility is an industry where we all get better together. We need to continue to share best practices about what works and make it so that everybody can learn. We need to make it easier to include accessibility and get to that point where we are celebrating the innovations of accessibility as standard features.
We are going to continue to put accessibility first and make it an embedded part of our culture at Xbox. We want to make and bring fun to everybody, which means identifying the barriers to play. Where is there an unmet need or new area that we should invest in so that everybody can experience the next place the industry goes? That's why we are in the gaming industry — we want to bring fun to the people.