Go Back to College With Two Point Campus Before It Leaves Game Pass
All the fun without any of the crushing debt.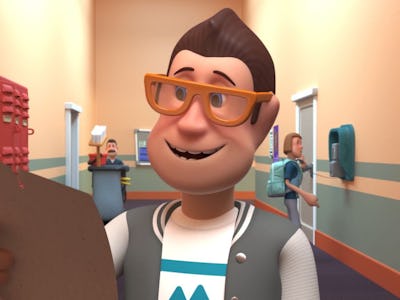 Education is important. Our ability to pass knowledge between generations — from agriculture to "adult novelties"— is our greatest evolutionary advantage. All animals learn, but none teach the way that humans do. Sure, lions show the cubs how to hunt but they don't have lion trigonometry. We've organized education into a series of classrooms that are vital to our society and our survival as a species. It's also boring as heck.
This is why college life is defined by the social peaks (see: binge drinking) between its academic valleys. The long hours studying, the long-winded professors, the crushing pressure of exams. Are classrooms ever fun?
Two Point Campus from Two Point Studios seems to think so. This charming sim from the makers of Two Point Hospital puts players in the role of an omnipotent campus administrator, in charge of everything from building layouts and staffing to what type of parties are thrown in the student union. Its curriculum replaces stodgy classics with zany fantasies, but the saccharine wrapper hides a deeply rewarding and complex sim that is leaving Game Pass this month.
Unlike actual college, the cost of entry in Two Point College is very low. A robust tutorial and slow-burning campaign will walk you through everything you need to know to get started. Things are simple at first, build a class, hire a teacher, that sort of thing. But soon you start to get into the nitty gritty of a successful campus. That's where it sets the hook.
Like any good sim, Two Point College offers a ton of customization. Even early on when you have access to just the basics you'll find yourself agonizing over the layout of each room. Is there enough space for a hand dryer between each bathroom sink? Can you get a plant in that corner? How many windows is too many? What color bedding should you use in the dorms? Couches or armchairs in the hallways? On and on it goes.
The learning curve comes in when it's time for growth. Odds are you'll meticulously design a dream campus only to be met with a litany of new goals after the first academic year. Suddenly you need to add a new classroom, or students want a lounge AND a student union, but you're out of space. That luxury bathroom you installed takes up too much room, and unhappy students will bring down your academic prestige and your tuition dollars. Now what? Do you create a chaotic but functional redesign? Or do you just start over?
Once you learn the basics, or if you're just the freewheeling type, sandbox mode awaits. The campaign sets short-term goals that unlock new regions for different kinds of schools. In sandbox mode you can do whatever you want from the start, and explore the wild and wonderful course offerings to their fullest. Say goodbye to Intro to Philosophy or Algebra 201 and enjoy things like Spy School, Knight School, Dark Art, and Wizardry. Plenty of screwball humor and delightful animations accompany each subject, along with a long list of achievements and seemingly endless options for expansion.
Like any good sim YMMV when it comes to deciding how much is too much. Casual players can expect to lose 8-10 hours easily just by going through the campaign and having fun. If sim games are your thing, or if Two Point Campus clicks for you in a big way, you can easily lose dozens of hours in the sandbox. You don't have much time to waste! Two Point Campus leaves Game Pass on July 31.
Two Point Campus is available now on Game Pass. It's also for sale on Xbox, PC, Mac, PlayStation, and Switch.