11 Genius Sex Toy Inventions Under $60 on Amazon
Getting maximum pleasure doesn't have to cost a fortune.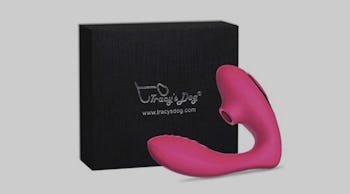 Amazon
Loving yourself is more than just liking the way you look and digging your own personality. It is all about treating yourself right—in every way you can. Sometimes this means eating cheeseburgers, sometimes this means a facial mask, and other times it means indulging in your sexual pleasures wholly. Whether you have a long-term partner or not, unassisted sex can get mundane. Discover new pleasures by treating yourself to a helpful toy, from vibrating anal beads to nipple stimulating suction tools, sex toys add depth and dimension to your sex life. Here are a few that serve several purposes—and are so cheap you'll have zero price tag guilt as you add them all to your cart.
This nifty little tool can really help satisfying a lot of needs. With a sucking clitoral stimulator, three suction and 10 vibration patterns to stimulate. The dildo portion slips into the vagina, vibrates, and rests on the elusive g-spot. Settings can start you out slow—but increase to hard and intense, making sure the big-O is reached exactly how you like it.
Sometimes you just need a little lovin' on the go. This compact massager is fabulous for travel (and discreet enough should it be discovered somehow in transit). There are 20 multifunction vibrations for you to customize your experience, whether using it to massage a lower back or other, more erogenous areas.
This little tool has so many uses, you'll wonder what you ever did without it. The vibrating toy can serve as a clitorial stimulator, nipple stimulator, for anal play, or as a couple's tool. It's made of a soft, flexible silicone that can be attached to most penises—and reaches most g-spots.
Sometimes old school is just what the doctor ordered. This flexible, highly realistic dildo has a strong suction cup that can adhere to various surfaces. It is also strap-on compatible, so it can go from solo play to partner play very easily.
Talk about a toythat does it all. Designed to pleasure the g-spot and stimulate the clitoris, each piece vibrates to achieve a customized experience. People also use this toy for anal/prostate stimulation, nipple play, and partner foreplay. Well worth $29, in our opinion.
For visual guys, this mini sex doll has a lot of appeal. With squeezable and stretchable flesh, this comes with both a vaginal and anal entryway option. The vaginal construction is pretty anatomically correct and really works if you like something to grip onto.
If clit stimulation is the key to your orgasms, invest in this toy. With a small sucking head and soft silicone shaft, this little miracle worker can hit all the right places.
Want a long-lasting erection and to give your party extra pleasure? Slip one of these babies on during sex. The top vibrates for your and their pleasure, and comes with rings to stimulate testicles as well. You literally can't go wrong with this simple and cheap buy.
Who says masturbation can't also be performance training? This sheath wraps around the penis head and is designed to offer 10 different vibration options. The toy itself is used to help men train to last longer during sex, but can also be used to achieve orgasm.
We'd be remiss if we didn't tell you about this toy. These ribbed anal beads have so many uses. They are fabulous for traditional vaginal female masturbation, but can also be used to stimulate the prostate and for anal stimulation as well. It vibrates for extra delicious sensations, and is a soft silicone texture for comfort.