Toem Is a Must-Play Photography Adventure on Xbox Game Pass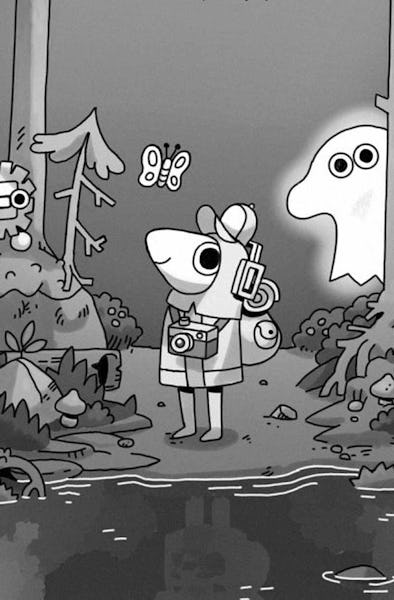 Something We Made
The joy of photography is in how it manages to capture the beauty in the everyday world around us. That is why a picture is worth a thousand words. Delightful indie game Toem takes this idea to heart in its presentation of a deceptively mundane world that is full of potential adventure for the player, even if it is just through the lens of a camera. Now on Xbox Game Pass, Toem is a wonderfully relaxing title about the joys of photography that will leave you with a new outlook on life.
The world of Toem is rendered in simple black-grey tones. The game's diorama-esque levels are full of different biomes, characters, and secrets to interact with. The game sets the player on their adventure by handing them a camera and tasking them with climbing to the top of a mountain in order to photograph the titular phenomenon.
Toem separates its adventure into smaller areas that range from snowy peaks to city streets. All of these are bustling with NPCs just living their lives in the world. In order to progress on to the next area in pursuit of your ultimate goal you will need to collect a certain number of stamps. Stamps are earned by completing side-quests given by the game's NPCs.
These quests are delightfully silly and written with concise charm. You will likely only talk to an NPC a couple of times in the course of accomplishing whatever task they give you, but it is always a delightful fleeting moment. Every task given to you can be solved with some unconventional thinking and your camera. Somebody wants a picture of a fish, another wants you to scare away some birds, and there may even be a ghost haunting the woods.
All of these stories as small pastiches of life within the world of Toem. They rarely connect but they don't need to. Like a scrapbook of photos, the individual snapshots of the people that these quests provide culminate in a more cohesive collage of the world. It is a living breathing thing, and by capturing passing moments with your camera you are able to appreciate them all the better.
Similarly, Toem's compendium invites a deeper connection to the game's world. Players can collect 54 pictures of every animal in the game in order to fill out their compendium. Like the game's side-quests these compendium photos require the player to explore every corner of every map in Toem.
In addition to eventually finding the desired creature and taking a photo of it, the player will find themselves surrounded by things they never would have seen had they not gone out of their way to fill the compendium. It is a feeling akin to real-life photography, in which you set out on an adventure to capture a single image but find yourself taking in everything around you on the journey to that image being taken. That single photo — in real life or Toem's compendium — is loaded with more experience than can be put on a roll of film.
For anybody with a passing interest in photography, or for those who just want a chill adventure filled with delightful characters, Toem is the perfect game to sit down with.
Toem is now on Xbox Game Pass.