Play the Best Version of Tetris Before It Leaves Xbox Game Pass
Putting all the pieces together.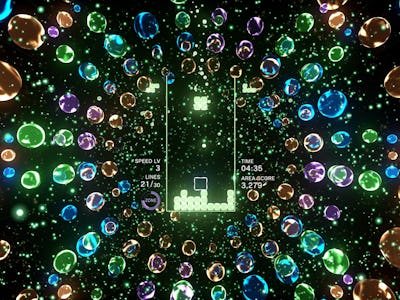 Ubiquity is the end game of success. Whether it's a product or a show or a game, there's a final level to success where it seems everyone everywhere knows about the thing. The problem with being common knowledge is it's, well, so common. When was the last time you savored a Coke? Or watched The Office without eating or cleaning or looking at your phone? Ubiquity is a slippery slope that leads to the mundane. Just look at the greatest video game of all time.
Tetris debuted in 1985 and soon took the world by storm. Developed in the USSR, it came to the West via Nintendo's Game Boy and became arguably the first video game to crossover from "kid stuff" into popular entertainment. You probably have a parent or grandparent who played a ton of Tetris at a time when video games were still found in the toy aisle. You probably haven't played in a while, either. But the definitive version, Tetris Effect: Connected, is worth your attention because it gives this legend the respect it deserves.
The problem with the ubiquity of Tetris is that the platform often undermines the experience. I'm of the generation that played it on green and grainy Game Boys, TI-83 calculators, and Motorola Sidekicks. The simplicity of the game makes it an easy port. And the more Tetris got ported, the further we strayed from appreciating its elegant design. For many players, Tetris was something you did in line at the grocery store or waiting for Attack of the Clones to start.
But Tetris Effect: Connected is elevated Tetris, Tetris caviar, the Cadillac of Tetris. Designer Tetsuya Mizuguchi has a reverence for the game that shines through in the UX. Each level is a sumptuous audio-visual playground that includes a broad spectrum of moods and vibes. Tetris Effect is true to its title in that it excels at putting you into that state of dissociative bliss where all that exists are you, Tetris, and eternity.
Headphones are a must for this game. You may not immediately notice that every time you press a button to move or rotate one of the Tetriminos (pieces), a corresponding sound effect pops up that blends almost seamlessly into the soundtrack. At first, it's pure fun to bleep and bloop along with the music, even if you're too focused on playing with an autotune effect to line up your pieces properly. Soon, you discover Tetris has a rhythm game at its heart that makes the ever-increasing speed even more thrilling.
Tetris Effect: Connected celebrates the sublime mechanics of Tetris while also introducing new elements and game modes that expand on how you think about those mechanics. A time-stopping Zone move adds a new strategy to single-player games by allowing you to briefly pause time and drag pieces where they need to go instead of guiding them as they fall.
There are a handful of different Effects Mode challenges that focus on specific goals, like getting all-clears or playing upside down. There's even head-to-head multiplayer for when your ego gets too big and you need to be humbled online. You could honestly play it forever, but if you want it on Game Pass play it ASAP. It leaves the service on April 30.
Tetris Effect: Connected is available on Game Pass and PlayStation Plus. It's also for sale on Xbox, PlayStation, PC, Switch as well as most VR headsets.