30 Years Ago, Gaming's Most Controversial Company Was Born — And It's Still Pushing the Limits
Take-Two Interactive knows how to play the game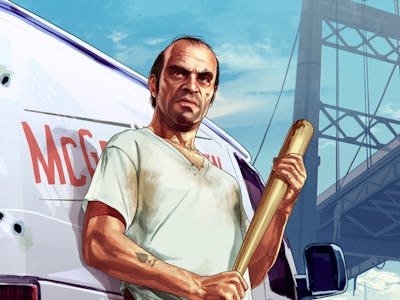 Take-Two Interactive
Household names are not a meritocracy. Rarely is the thing you know and love surviving independent of some conglomerate. Ritz crackers? That's Mondelez. NBC? That's Comcast. Dairy Queen? That's Berkshire Hathaway. On and on it goes. It feels sinister, but it's just economics (unless capitalism itself is flawed hahaha no way). Successful companies buy other successful companies to be more successful. Be big or be bought, as the saying goes. And thirty years ago, one of gaming's biggest companies got its start.
Take-Two Interactive Software, Inc. likely triggers some subliminal recognition among gamers who have seen its logo flash thousands of times as they booted up some of the biggest IPs in the business. Grand Theft Auto. BioShock. Sid Meier's Civilization. These are just some of the brands in the Take-Two portfolio, a company estimated to be worth nearly $24 billion today. Thirty years ago, however, the future was far from certain.
On September 30, 1993, founder Ryan Brant incorporated the company in Delaware. Its first release, Star Crusader, was a space combat simulator charitably described as Wing Commander without the cinematics. It's certainly not much in the way of eye candy, but Star Crusader was a competent, fun title that gave Take-Two enough momentum to keep going.
Take-Two continued to focus on developing projects and securing partnerships. A publishing deal with Acclaim opened the doors to broader distribution, including previously untapped overseas markets. And a contract with Sony, itself a relative newcomer to the gaming space, gave Take-Two the rights to make games for the PlayStation platform. Signing Christopher Walken for the 1996 live-action thriller game Ripper was also a landmark achievement for the company, and for fans of content everywhere.
No deal would be more consequential for the fate of Take-Two than its acquisition of BMG in 1998. The company had just released Grand Theft Auto to modest financial success. But what caught Brant's eye was the publicity it generated. The original GTA became a centerpiece for Senator Joseph Lieberman in his moral crusade (e.g., publicity stunt) to protect children from the harms of violent video games.
Other companies might have soured on the franchise for seeming like a liability, but Bryant saw opportunity. He brought in Sam and Dan Houser, the creators of GTA, along with Jamie King and Terry Donovan to found Rockstar Games. The mission was to continue to make the kinds of games that would piss off the Joe Liebermans of the world. It worked.
Take-Two put out four Grand Theft Auto games in the span of five years, an unimaginable feat by today's standards. By 2003, the company had over $1 billion in annual revenue. In 2004, it acquired the rights to the Civilization IP. It also formed two new internal studios, 2K Sports and 2K Games, which soon launched the BioShock franchise as well as the NBA2k franchise and ESPN NFL 2K5, arguably the best football video game ever created. Take-Two managed to keep the NBA rights, but lost the NFL to EA's Madden series.
Take-Two found tremendous success at the turn of the 21st century, but there was trouble ahead. The Securities and Exchange Commission found tens of millions of dollars worth of fraudulent business practices meant to mislead investors, namely reporting sales of games they expected to sell as if they had already happened. In addition, Brant himself would plead guilty to a number of charges and pay millions in fines, as well as being barred for life from having any significant management position at a publicly traded company. Then, the Joe Liebermans came back, this time for Hot Coffee.
The infamous Hot Coffee mod, a player-created piece of content for GTA: San Andreas that unlocked a hidden mini-game where players would have to fill an "excitement" meter while having intercourse with a woman, once again caught the attention of Congress and pearl-clutchers everywhere. The sticking point for legislators was that the ESRB rating contained no mention of the graphic sexual scene, along with the implication this was done deliberately to fool censors and wasn't just part of the game's development. GTA: San Andreas got slapped with an "Adults Only" rating and was pulled from shelves until a reissued version removed the content entirely.
Did this hurt Take-Two? Ultimately, the answer seems to be no. Sure, legal headaches are never fun, but the GTA brand thrives off controversy. And if you ask most gamers what they think the worst thing Take-Two has done, it's turning GTA V into a microtransactions machine that has left us without a proper sequel for more than a decade. They can't be too mad, though, since GTA V continues to sell millions of copies each year and has generated an estimated $8 billion in lifetime revenue.
It's hard to imagine a gaming landscape without Take-Two's influence, or a future that doesn't involve us getting more numbered sequels of their biggest IPs. Take-Two may not be a household name, but they've got a presence in just about every household with a gaming console. And who needs to be a household name when Wall Street thinks you're a rock star?