Street Fighter 6 Just Revealed Its First DLC Character...And He's a Vlogger
A whirlwind is coming your way.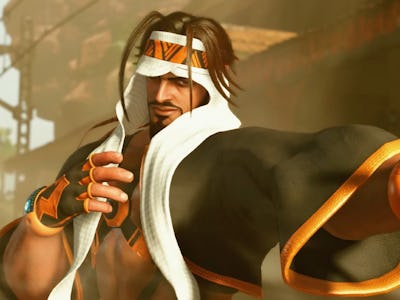 Capcom
The massively successful Street Fighter 6 is about to get even bigger with the addition of DLC character Rashid. This new fighter was first introduced in the previous installment, Street Fighter 5, and will make his return this summer. But what do we know about Rashid, how will he play, and when will he make his debut in Street Fighter 6? Here's what you need to know about the Street Fighter 6 Rashid DLC character.
Street Fighter 6 Rashid Release Date
Rashid launches in Street Fighter 6 on July 24, 2023, across PS4, PS5, Xbox Series X|S, and PC.
Street Fighter 6 Rashid Style
Rashid is a master of the whirlwind, with high-flying moves that will surely catch his opponents off-guard. In terms of backstory, Rashid's goal is to become a successful vlogger, and even carries his camera around with him at all times.
Capcom says Rashid's fighting style focuses on parkour and quick movement. "He has many techniques to attack while moving forward and has a unique Run action that is used from a forward step, giving him plenty of ways to approach his opponents," said Game Director Takayuki Nakayama on the PlayStation Blog.
Expect to utilize a wide range of moves such as the Arabian Cyclone, where Rashid performs a spinning kick that generates a gust of wind. You can then shift into other moves such as the Rolling Assault and Wing Stroke easily.
In general, Rashid will play much like he did in Street Fighter 5, emphasizing speed, agility, and ease of use.
Street Fighter 6 Rashid Trailer
The latest trailer shows Rashid in action. In it, we get a look at his parkour moves, as well as his impressive agility that players will surely want to take advantage of during battle.
How to Get Street Fighter 6 Rashid
The fighter will be available to players who own the Year 1 Character Pass as well as the Deluxe, and Ultimate Editions of Street Fighter 6. The Year 1 Character Pass costs $30 and features four fighters in total, including AKI, Ed, and Akuma, as well as Rashid — all of whom will become available over the course of a year. You will also be able to purchase fighters individually without the Character Pass.
Additionally, Capcom is also allowing players to try Rashid out for free with the use of a Rental Fighter ticket, which is available in the Fighting Pass. The Rental Fighter ticket gives players access to the character for an hour.
Street Fighter 6 is available now.