Here's the Best Way to Handle Starfield's Terrormorph Threat
Good night, sweet monsters.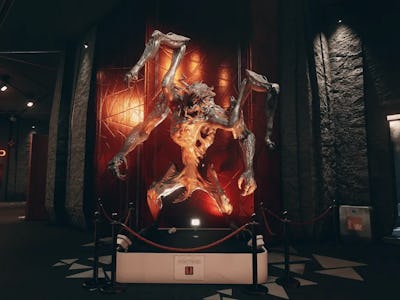 Bethesda
Factions questlines are some of the most ambitious in Starfield, telling stories that can potentially have some massive effects on the universe. While there are a handful of different Factions, most players will likely start with the United Colonies Vanguard, as it can be started as soon as you reach New Atlantis. During that questline, there's a vital choice you'll have to make in how to deal with the Terrormorphs, and to make things a little clearer, we'll help break it down. Here's whether you should choose Aceles or Microbes in the "A Legacy Reborn" quest in Starfield.
Warning: minor mid-game spoilers ahead.
How to Join the UC Vanguard in Starfield
There are a few quests you'll need to play through before getting to "A Legacy Reborn," and if you've yet to join the UC Vanguard it's incredibly easy to do. While running around New Atlantis you'll likely hear someone talking about the Vanguard and get an Activity notification to do so.
Head to the MAST Building on foot or by train. Take a left after at the main entrance, talk to Commander John Tuala, and say you're interested in joining the Vanguard. He'll give you a quick quest for orientation, and once complete you're in. Just follow the quest line until you hit A Legacy Reborn.
Should You Choose Aceles or Microbes?
Throughout the UC Vanguard questline, you'll learn a lot about Terrormorphs, the deadliest alien entity known to humankind. After combating quite a few you'll eventually be presented with a choice, wipe out the Terrormorphs by breeding Aceles or disperse microbes to eliminate them.
While this choice might seem monumental initially, there's actually not much difference whichever you choose. The game says there are "concerns" about microbes even though they work faster, but there doesn't seem to be any lasting effects in that regard. Both options wipe out the Terrormorphs with no downside.
The only thing you'll really need to take into consideration is how your companion will react, as different companions will like or dislike each decision. Science-minded companions, like Sarah and Barrett, will prefer if you take the microbe approach. However, unscientific companions like Sam and Andreja will prefer if you choose the Aceles.
Because each choice essentially has the same outcome, you're better off basing what you choose on whichever companion you're trying to build approval with.
How A Legacy Reborn Affects Starfield's Ending
Without spoiling too much, at the end of your Starfield playthrough, you're essentially shown a potential future for the universe, based on choices you made during important quests. Again, how you deal with the Terrormorphs doesn't make much difference, as either choice will tell you the creatures have been completely wiped out.
Starfield is currently available on Xbox Series X|S, Game Pass, and PC.