Spider-Man 2 Could Introduce an Iconic Across the Spider-Verse Hero
Time to break up the boys club.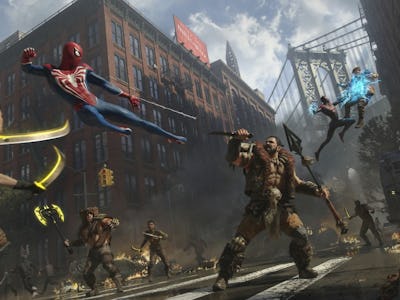 Sony
As part of Summer Game Fest 2023, Insomniac creative director Bryan Intihar was featured on-stage to discuss Marvel's Spider-Man 2. The highly anticipated sequel will launch on October 20, 2023, exclusively for PS5.
While showing some art for Kraven the Hunter, one of the game's main villains, Intihar made an interesting comment, noting that Kraven is "on the hunt" for "Peter, Miles, and others." It's possible Insomniac will take this as an opportunity to introduce another character, potentially Spider-Gwen, who would fit nicely into this universe.
If you've read the Spider-Gwen comic, you know she's a fantastic character. But most fans probably know her from Spider-Man: Across the Spider-Verse. Insomniac may refrain from making her playable until a later entry, introducing her in Spider-Man 2 to set up future stories, just like the first game did with Miles. Given that this is a separate universe from the rest of the Spider-Man stories, Insomniac could put its own intriguing spin on Spider-Gwen.
It's no secret that Marvel's Spider-Man is one of Sony's most important franchises, so it makes sense the series will continue for the foreseeable future. Spider-Gwen can travel to different dimensions, which would enhance the scale of future games.
Spider-Gwen is funny, witty, and relatable, and would work well alongside Peter Parker and Miles Morales. Like Miles, her powers and abilities are similar to Peter's, but a few differences make her stand out, like her incredible strength.
It's not totally clear what Insomniac's plans are for the series going forward, but it's unlikely to end anytime soon. Given the success of Spider-Man: Across the Spider-Verse, and the need to get players hyped for potential future installments, adding a third hero — Spider-Gwen — to Marvel's Spider-Man 2 would be an incredible move. At this point, we'll have to wait and see how the story unfolds.
Marvel's Spider-Man 2 launches exclusively for PS5 on October 20, 2023.