Elden Ring proves Sony needs to bring one exclusive to PC right now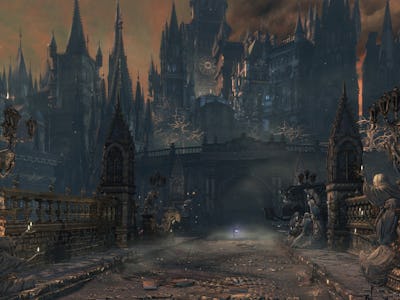 First-party exclusives have been the bread and butter of Sony Interactive Entertainment for years. When lists of the best PlayStation games come out, they are always led by the likes of The Last of Us, God of War, and Ghost of Tsushima. In response to the universal ecosystem that Microsoft is making with Xbox Game Pass, Sony has begun to slowly allow some of its best titles available on PC. Yet, even with a vocal desire for it, Sony has yet to port one vital masterpiece from 2015 that's relevant now more than ever before.
Sony needs to bring FromSoftware's Bloodborne to PC.
A growing market — In a recent investor briefing document, Sony spotlighted the exponential growth they have seen in the PC market since they started to port major counsel exclusives to the platform. This started with Guerrilla Games' robot-dino open-world RPG Horizon Zero Dawn, which was first released on Steam in late 2020.
Since Sony's first dip into the PC waters, they have released titles like Sony Santa Monica's God of War, and Insomniac Games' Days Gone. The company also has plans to release a bundle of Uncharted 4 and its standalone DLC The Lost Legacy later this year.
However, the most glaring absence is the PlayStation exclusive Bloodborne, from Elden Ring developer FromSoftware. The game was originally released for the PS4 in 2015 and was the developer's first Soulslike not set in the world of Dark Souls. Where Dark Souls was influenced by traditional fantasy, Bloodborne took influence from Gothic and Lovecraftian Horror.
A twist on the Souls formula — In addition to this new cosmology, the game also tweaked the iconic Souls gameplay, removing the importance of shields and adding a rolling mechanic that would be incorporated into future Soulslikes. Overall, this makes for a faster-paced game that relies on timing rolls and staggering enemies with guns to make openings for the player to deal damage.
The game quickly found a large following among players who enjoyed the refreshing world and gameplay, receiving critical praise as well. To this day many still think it is the best Soulslike out there. Eventually, fans began clamoring for a PC port for the game, desires fueled by the release of Horizon on Steam. Many fans hoped that a PC port would unlock the framerate, which is sadly locked to thirty frames a second.
Missed opportunities — While the game can be played on PC through the Premium tier of Sony's new PS Plus (formerly available on PS Now) there are no quality-of-life enhancements added that a PC port would benefit from. When Horizon came to PC it brought with it enhanced graphics settings, ultrawide monitor support, and most enviable to Bloodborne players and unlocked framerate.
With the recent success of Elden Ring, many new and old fans of FromSoftware's games are getting the itch to play the other game that was a departure from the traditional Souls formula. Elden Ring pulls heavily from improvements first made in Bloodborne, like dungeon design inspired by the procedural chalice dungeons. Both Sony and FromSoftware would stand to see a great interest in the long-awaited release of Bloodborne on PC.
During the PC port drought fans have found ways to cope with the absence. A fan-made PSX demake of the game was released on PC this February. There is also a Twitter account called "Is Bloodborne on PC" posts an update every day with the somber text "Bloodborne has NOT been announced for PC as of [the current date]." The account started just a few weeks after Horizon's release on PC
Sony projects that in the 2022 Fiscal Year they will see a $300 million profit from PC sales alone. If the success of Elden Ring selling over 10 million copies is anything to go by, Bloodborne would be a good start to reaching those 2022 goals.
So, for all our sakes, let me see that joyous tweet one glorious morning that Bloodborne HAS been announced for PC.