PS5 pre-order guide: How to know exactly when the console is back in stock
Make sure you lock in a pre-order the next time they become available.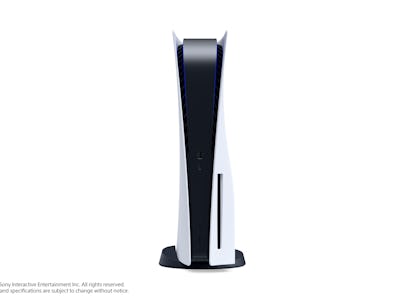 PlayStation 5 pre-orders have been live since September 17, but reservations for Sony's next-generation console have sold out almost immediately. So how can gamers claim one of the two consoles?
Both the base PS5 and the disc-drive-less PS5 All Digital are set to launch in the U.S. November 12 for $499.99 and $399.99, respectively. But most major retailers are no longer accepting pre-order requests because of the mass amount of orders that came in shortly after Sony's price and preorder reveal on September 16.
Reuters reported on October 27 that Sony had pre-sold as many PS5 units in the first 12 hours in the U.S. as it did in the first 12 weeks following the launch of the PS4 in 2013. A Bloomberg story from the day after also claims that the response to PS5 pre-orders and an uptick in PS4 game sales lead Sony to raise its profit forecasts.
That might be positive for Sony and its investors, but gamers who didn't manage to secure a pre-order in the first few hours are now playing the waiting game. While PS5 pre-orders are currently nearly impossible to come by here how you can stay up-to-date with every retailer offering reservations so you can catch the next wave of shipments.
PS5 Preorder guide
At the time of writing, PS5 pre-orders are sold out at all of the retailers offering them. Here's a list of every online shop that will let you reserve a console, many of these companies have email notifications to let you know when PS5s will be available again.
Base PS5 for $499.99
PS5 All Digital for $399.99
If you'd rather not sign up for email notifications, there are sites you can use to tell you when any of these landing pages change. Sken.io and VisualPing.io will notify users whenever a website is updated. Beware these might not be as reliable as receiving an email straight from the retailers.
All customers need to do is copy and paste the link to any of the aforementioned PS5 landing pages into either site and they'll send a notification whenever the HTML of one of the links change. iPhone and Android users can do the same thing by downloading Distill.io on iOS or Web Alert on Android devices.
Once the consoles are back in stock, don't wait to lock in your pre-order. Chances are the next wave will go quickly as well.
The PS5 will be released on November 12, 2020.
This article was originally published on