Princess Peach: Showtime! Is a Major Change for Nintendo's Leading Lady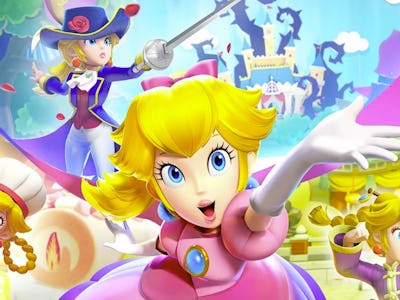 Nintendo
While Mario is getting a new 2D adventure in Super Mario Bros. Wonder this fall, his perennial partner, Princess Peach, is finally taking center stage in 2024 with Princess Peach: Showtime! Thanks to the September 2023 Nintendo Direct, we got a good look at what to expect in Peach's solo outing on the Nintendo Switch.
The theatrical adventure lets Peach wear different hats (literally) that unlock new skills and ways to explore. Princess Peach: Showtime! looks to be a complex platformer to equal Mario's own outings.
The September 2023 Nintendo Direct showed off plenty of gameplay for Princess Peach: Showtime!, focusing primarily on the new character Stella and the game's outfit transformations. Stella's ribbons will let Peach slap enemies and collect out-of-reach coins. It also gives Peach a cute ponytail.
But the main event is the outfit transformations, including Swordfighter Peach, Detective Peach, and Patisserie Peach. Though the game will include many more transformations. Each outfit unlocks unique skills like sword fighting (seems obvious), uncovering hidden clues, and making delicious baked goods in a minigame respectively. All of this occurs on theater stages that feel reminiscent of Paper Mario.
The outfit changing seems similar to other female-led games like Final Fantasy X-2 and Lighting Returns, which both centered around protagonists changing outfits to fill different roles in combat. These details in Princess Peach: Showtime! lean into the Princess's girly appeal, but the game itself looks to be as sprawling and complex as any other Mario platformer, with the potential to satisfy anybody in the mood for a quality Nintendo title.
Despite being around almost as long as Mario, Peach has rarely gotten the chance to headline her own title. While the likes of Luigi and Wario managed to get their own successful franchises, Peach was left on the sidelines. The only exception is Super Princess Peach on the Nintendo DS. Princess Peach: Showtime! will give the princess another shot at the spotlight, and there is plenty of room for growth.
One of Super Princess Peach's main criticisms when it came out in 2005 was the Emotion Meter mechanic that let players switch between emotions to use different skills for Peach. Overall, the game was criticized for being a watered-down experience for handheld players that was also kind of patronizing to women in general.
While Princess Peach and Zelda are two of the most recognizable characters from two of the biggest franchises, neither gets the main stage and is usually relegated to damsels in distress in some form or another. Metroid's Samus is the most notable counterexample in Nintendo's catalog. But Princess Peach: Showtime! is going all on Peach's star power.
With rumors piling up that 2024 may be the last year of the Nintendo Switch before a successor releases, Nintendo releasing a solo Peach game as potentially one of the console's last major first-party games is a hopeful sign for the future of Peach. If Princess Peach: Showtime! can deliver on the abundance of charm and adventure that trailers hint at then we could be seeing plenty of Peach in the future. Let's not have another 18 years between Peach games this time around.
Princess Peach: Showtime! comes to Nintendo Switch on March 22, 2024.