Pokémon Concierge is a Charming New Netflix series — What to Know
I'm happy when you're happy.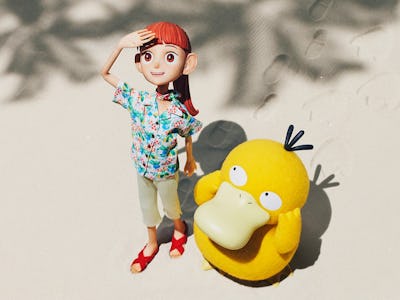 Netflix
The Pokémon Company revealed more than just gaming news on its annual Pokémon Day. In its 2023 Pokémon Presents, it introduced a new stop-motion anime called Pokémon Concierge. We had plenty of expectations for Pokémon Day, including a possible new installment for the Pokémon Mystery Dungeon series and Pokémon GBA games coming to Nintendo Switch Online subscriptions. It looks like The Pokémon Company had other plans, though.
Pokémon Concierge might've not been in the running, but it's an appreciated surprise that's already intrigued fans across social media. Here's what we know about the Pokémon stop animation series so far.
When is the Pokémon Concierge Release Window?
Pokémon Concierge doesn't have an exact release date. It's scheduled to launch sometime in 2023, but I wouldn't expect it in the next few months.
Is There a Pokémon Concierge Trailer?
Yes, Pokémon Concierge has a short teaser trailer that aired during this year's Pokémon Presents stream. There isn't much to unpack besides the peaceful beachside setting and the lone Psyduck waddling on the sand. However, we get a feeling for the story from the narration about the resort concierge and her mission to tend to the resort's Pokémon guests.
Minyoung Kim, Vice President of Netflix Content in Asia, said the following when presenting the trailer on Pokémon Presents:
We're dedicated to adapting fan-favorite stories and manga into extraordinary shows. With this title, we're excited to marry a entirely new storyline that expands the Pokemon universe with groundbreaking stop-motion animation.
What Is the Pokémon Concierge Story?
Pokémon Concierge stars Haru, the resort concierge, and her interactions with the guests. Guests can be either Trainers, Pokémon, or both — it might depend on the episode. Netflix hasn't released a detailed plot synopsis about whether the story will delve into Haru's personal journey or focus on her guests. It could be episodic or threaded along a more concrete plot.
Pokémon Concierge doesn't explain beyond the trailer and brief text. The YouTube description for the trailer reads:
Follow Haru, a worker at the Pokémon Resort, and Psyduck as they meet Pokémon and Trainers on vacation!
At the very least, it seems like Psyduck will be a reoccurring character. We don't know if Psyduck is Haru's Pokémon or a coworker, though. No other Pokémon have been confirmed in promotional materials.
What Studio Is Developing Pokémon Concierge?
Netflix is producing Pokémon Concierge in collaboration with The Pokémon Company and dwarf studios, a Japanese animation company that's worked on multiple family-friendly series in the past.
Dwarf Studios specializes in stop animation like the kind seen in the Pokémon Concierge teaser. It's also the same studio that recently worked with Netflix on Rilakkuma and Kaoru, which received high ratings on IMBD and Google Reviews. In short, Pokémon Concierge is in good hands.