Pokémon Presents Is the Perfect Time to Bring Retro Games to Switch Online
Never going out of style.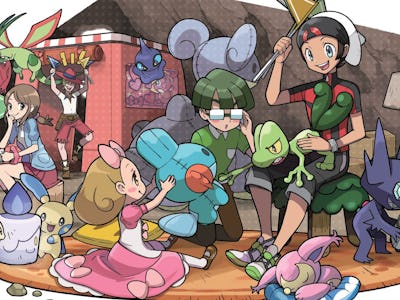 Nintendo
It's official: Nintendo's semi-regular Pokémon Presents stream is happening again this year. Many fans already assumed it would be on February 27, the unofficial Pokémon Day, but now it's confirmed. Pokémon Presents typically acts as the yearly roadmap for mainline (or otherwise significant) Pokémon games coming out each year. However, there's another possibility for what might come outside of new games: Retro entries, hopefully joining the Nintendo Switch Online + Expansion Pack library.
Nintendo already announced a bunch of pre-2000s games from its most popular franchises like the Super Mario Bros. and The Legend of Zelda series during its latest Direct. The Legend of Zelda: Minish Cap is already a big sell, so retro Pokémon games could be the push that any holdouts might need to commit to a Nintendo Switch Online subscription. Other rumors, including a possible new installment for the beloved Pokémon Mystery Dungeon spinoff series, also popped up as popular guesses about what to expect from the wild world of Pokémon.
Old Pokémon games that were released as far back as the original Pokémon Red and Blue have never appeared on the Nintendo Switch. These classic Pokémon games, or even the newer Pokémon FireRed and LeafGreen versions, would be hype additions that could possibly push fans into subscribing to the Nintendo Switch Online + Expansion Pack because of the limited ways you can play them nowadays. The easiest way to play them would be to obtain a handheld Nintendo console from the Nintendo DS era or earlier, depending on the version you want to play.
The Nintendo Switch Online + Expansion Pack subscription includes Game Boy Advanced games, so anything from the GBA era like Pokémon Ruby and Sapphire are also possible candidates to add to the catalog. The only retro Pokémon games available on the Nintendo Switch so far are the original Pokémon Snap and Pokémon Puzzle League, two of the most popular Pokémon Nintendo 64 games from 1999 and 2000 respectively. These are only available through the Nintendo Switch Online + Expansion Pack membership, though.
The Pokémon Trading Card Game for the Game Boy is also coming to the standard Nintendo Switch Online and Expansion Pack memberships. Expect that with Kirby Dream Land, The Legend of Zelda: Link's Awakening DX, and other classics at a later date.
Nintendo can go with one of two routes for bringing retro Pokémon games to its subscription services. Either it can introduce Game Boy ones that could pull in players who haven't even subscribed to the standard online membership, or it can introduce GBA ones that add value to the Expansion Pack subscription. At least, assuming that the company even considers it an option. We don't even know if Nintendo will drop a new mainline game or spinoff. It's a mystery that fans will have to find out next week during the Pokémon Presents livestream.
Pokémon Presents will air from the official Pokemon YouTube channel at 9 a.m. Eastern on February 27, 2023. There isn't a scheduled video on the channel at this time, so fans should just check back at the scheduled time or keep an eye on social media for when the company officially starts the stream.