Everything You Need to Know About Xbox's Planet of Lana
A girl and her weird cat-like creature.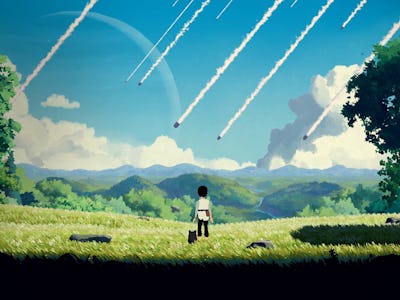 Microsoft
Adventure awaits. The most recent ID@Xbox showcase highlighted four new indies coming to the platform, with one standout game being the beautiful side-scrolling platformer Planet of Lana. Here is everything you need to know about its stylish world and when you can get your hands on it.
What is the Planet of Lana Release Date?
Originally slated for a late 2022 release, developer Wishfully announced in August 2022 that the game would be delayed. The current release window for Planet of Lana is Spring 2023, with no further details currently announced as to when exactly that will be.
Is There a Planet of Lana Trailer?
Yes! There have been several trailers for Planet of Lana since its initial announcement. Check out the most recent trailer, released in August 2022. which gives a look at the almost painted world of Planet of Lana and the environments players will explore.
You can also check out the game's reveal trailer that was shown off when the game was first announced back at Summer Game Fest in 2021.
What Platforms Will Planet of Lana Be Available On?
Planet of Lana is a console exclusive coming to Xbox Series X and S, as well as PC. The game will also be launching day one on Game Pass.
What is the Story of Planet of Lana?
Taking place on the planet Novo, Planet of Lana follows the story of Lana, a native of the planet. The game opens with a mysterious mechanical army descending onto the beautiful landscape of Novo, forcing Lana and her sister to flee. The two are separated when Lana's sister is captured.
Alone in the harsh wilderness of Novo, Lana comes upon a cat-like creature named Mui, with whom she forms a bond and the two embark on a journey to save Lana's sister and uncover the origins of the invading robot force.
The game will see players traverse multiple biomes of Novo, from lush green forests to barren deserts. Planet of Lana is a game with no dialogue, and the story is told entirely through the animation of the characters and the world as well as a beautiful score from The Last Guardian composer Takeshi Furukawa. Studio Ghibli's film Spirited Away was also a "guiding star when it came to the tonality of the game," said Creative Director Adam Stjärnljus in a press event attended by Inverse.
What is Planet of Lana Gameplay Like?
Planet of Lana is a side-scrolling puzzle platformer. Stjärnljus cited the obvious inspirations of games like Limbo and Inside. Like those games, Planet of Lana will have the player navigate the world through a series of environmental puzzles. The unique gameplay mechanic added in Planet of Lana is the addition of a companion.
The adorable alien creature Mui will be an integral part of helping Lana traverse the world. Similar to the influential PS2 classic Ico, the player will be able to give Mui commands to accomplish tasks that Lana herself cannot, such as hypnotizing other creatures and crawling into small spaces.
However, Mui has their own limitations and will need Lana to do certain tasks to make sure the two can travel forward together. Gameplay sections show Lana swimming in water and gathering planks for Mui to sit on in order to travel across these gaps since Mui (much like Ellie in The Last of Us) cannot swim.
Planet of Lana is coming to Xbox Series consoles, PC, and Game Pass in spring 2023.