Overwatch 2 Season 7 Patch Notes Reveal 2023 Halloween Event, Sombra Rework, and More
It's spooky season in Overwatch 2.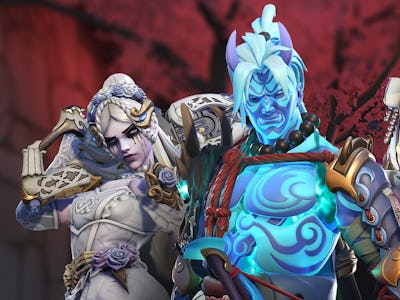 Blizzard
Overwatch 2 Season 7 kicked off with a new patch on October 10, bringing a new map, a controversial support character rework, and the return of the Halloween Terror seasonal event, among other major changes.
Here are the biggest updates coming with Overwatch 2 Season 7.
Halloween Terror 2023
Halloween Terror is the biggest addition to Overwatch 2, at least in the amount of content it adds. This year's Halloween event brings back Junkenstein's Revenge, Junkenstein Endless, and Wrath of the Bride from previous years and adds a new mode.
The new addition, Trials of Sanctuary, is a crossover with Blizzard's Diablo IV, which launched this summer. In this four-player co-op mode, teammates and enemies alike get a Diablo IV makeover, turning them into characters like Lilith and the Butcher from Blizzard's dungeon crawler. As you push through the event's dark cathedral map, you'll find powerups hidden in chests that can grant stat boosts or entirely new abilities.
Both the new Trials of Sanctuary and the returning co-op modes will be available until November 1, when the Halloween Terror event ends.
New Samoa Map
Another bit of new content that won't go away at the end of the season is Overwatch 2's Samoa map. The new map takes players from a beach through a village and into an active volcano. At the start of Season 7, it will be available in all unranked modes before joining the Competitive map rotation later in the season.
Blizzard showed off the map at the recent Overwatch League finals, and some players think its reveal also hinted at a new playable character. Shown to be a former friend of Support hero Baptiste in a short story released by Blizzard, Mauga is rumored to be the next Tank hero added to Overwatch 2. As some viewers spotted during the OWL finals, the Samoa map includes a room where Mauga's shirt can be seen, which some are taking as a hint that he's joining the game soon. Blizzard is set to officially reveal the new hero at BlizzCon on November 3.
Sombra Rework
The most controversial change for Season 7 is the rework of Sombra. A hacker focused on hit-and-run attacks and locking down enemies, Sombra has always been capable of dealing damage, but her real utility is disrupting the opposing team. The rework gives her more firepower but takes away some of her crowd control and evasion abilities at the same time.
Most notably, Sombra's update changes her Translocator skill, which used to place a beacon she could teleport to at will. Now, Sombra instantly teleports to wherever the beacon lands, significantly reducing her ability to escape fights. In addition, Sombra's Stealth ability — which used to be activated manually — now kicks in whenever she stays out of combat for 3.5 seconds. Like the Translocator change, this takes away another method of escaping in the middle of a fight.
Finally, Sombra will gain the Virus ability to replace her active Stealth. Virus deals damage over time, which is increased against targets she's already used her Hack skill on, reinforcing her new, more damage-oriented role.
Route 66 Rework
Like Sombra, the Route 66 map gets its own rework. While the overall layout remains the same, Blizzard adjusted where cover appears to alter the flow of matches. More cover is added to the attacking team's spawn point, making it harder for defenders to pick them off as they exit the gate.
Previously, passing the map's first checkpoint caused a door to close behind the attackers, forcing players to pass through difficult choke points to reach their team if they respawned. Now regrouping should be easier.
Defenders also gain a new advantage with the patch. Cover around the final checkpoint was reduced, giving the defending team a clearer line of sight to take out approaching attackers.
Group Respawn
Buried a little further down in Blizzard's patch notes is one more significant change. Starting with Season 7, heroes on the same team who fall within five seconds of each other will respawn at the same time. That means some players may have slightly longer or shorter waits than the standard 10-second respawn time. The change is meant to encourage respawning heroes to attack together rather than rushing in alone.
As Blizzard says in the patch notes, "We think that team fights are some of the most enjoyable moments in our game, but we've all been in matches where team cohesion — or lack thereof — makes these moments a rarity."
The full patch notes are available on Blizzard's website, including more minor hero changes and screenshots comparing the new and old versions of the Route 66 map.
Overwatch 2 Season 7 is available on PC, PS5, Xbox Series X|S, and Nintendo Switch now.