NBA 2K22 Season 3 start time, date, and rewards revealed
NBA 2K22 is about to get chilly.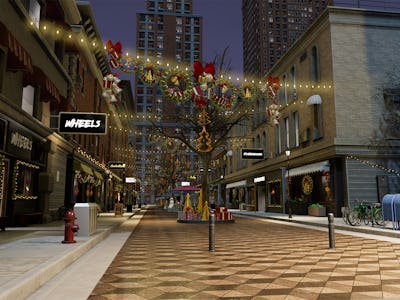 2K Sports
NBA 2K22 Season 3 is nearly upon us, which means it's time to get prepared for the massive Iced Out holiday update. Want to know how the City and the ship will change when the update finally goes live? Curious about those new level 40 rewards? We've got all you need to know, including the season's precise start time.
When is the NBA 2K22 Season 3 start time?
According to the version 1.8 patch notes published on December 1, NBA 2K22 Season 3, called Iced Out, will start December 3 at 11 a.m. Eastern for both current and next-gen versions of the game. The season is expected to last until sometime around January 14, 2022.
While the patch itself may release early and may even be live on your platform at the time of publication, the new Season 3 content won't be unlocked until that time.
NBA 2K22 Season 3 rewards, modes, music, and MyTeam
As noted in the 2K22 Season 3 announcement blog post, here's a quick recap of everything players can expect in the new update.
Next-gen Season 3
City Holiday redesign: Visit the Holiday tree on the morning of December 25 to claim a free present.
Fire and Ice Event: Earn Takeovers 10 times faster, but experience a cooldown with each point scored.
City Slam: 2v2, 3v3, and 4v4 matchups on the rooftops of the City. Build a roster of talented streetballers and take them into the City Slam tournament where they'll compete in challenges against elite opponents. If you win you get a Championship Belt.
Level 30 reward: Glider
Challenge reward: Iced Out racing suit for 100 wins at the Rec. Win 100 3v3 games to get the full outfit.
Current-gen Season 3
Cancha Del Mar Holiday redesign: The ship will host 12 days of Xmas leading up to the Dunk the Halls event. Visit the Tree of Giving once per day over those 12 days to earn a free reward. You'll also see the Northern Lights and the North Pole in the distance.
Dunk The Halls event: When a player with a higher level teams up with a player of a lesser level anywhere on the ship, the entire team will earn double XP.
Level 30 reward: BMX bike with detailed lightning skin.
Shared MyTeam/The W Content
Rewards: Animated Iced Out bundle as a level 40 reward, new jumpshot animation, an Iced Out Jewelry Pack, and a Holiday Mask.
Clutch Time: The game starts tied with five minutes on the clock and a 14-second shot clock. In overtime, the first player to score with an overtime tip-off wins. There is also a four-point line. The mode features exclusive rewards and a 50-win ladder to climb. Every 10 wins features a Milestone Prize with wheel spins for all other levels.Three losses in a row will reset your tier, but you'll never reset below that base tier in a given season.
MyTeam Rewards: Galaxy Opal Allen Iverson (level 40 reward). Complete Beyond Level 40 to get an Option Pack featuring rewards from other modes. This includes Pink Diamond Cliff Hagan, Pink Diamond Andre Drummond, Pink Diamond Dan Majerle and more. Pink Diamond Jason Richardson is in Showdown Tier.
Ornament Basketballs: Ornament basketballs for all teams in market packs.
City Jerseys: Win in TTO: The 100 using three players from that team to get their jersey.
City Courts: Match the franchise's single-game scoring record for a player in a game using a player from that team.
New Signature Challenge: Beat Lillard's special team to get a Ruby Perimeter-Centric Damian Lillard Player Coach Card.
The W: Four tiers of rewards and contracts with Lisa Leslie and DeLisha Milton-Jones. Complete all tiers to get VC, a mask, a Seasonal Clothing Bundle, 2K Breakthrough Gear, one extra Badge Point and Takeover Perk Picker.
Music: "STOP IT" by Bino Rideaux, "BIG" by Kendra Jae, "WIN" by Saint Bodhi, "Chaos" by Big Sean and Hit-Boy, "Realest Richest Youngin" by Roddy Rackzz, "untitled" by Logic, "Lose My Cool ft. NLE Choppa" by 070 Shake, "You Wouldn't Believe Me" by LaTheGoat, "Let's Go" by Goon Des Garcons, and "AMF" by John Lindahl.