NBA 2K22 release date, trailer, pre-orders, soundtrack, and cover stars
A new year of basketball means a new game is here.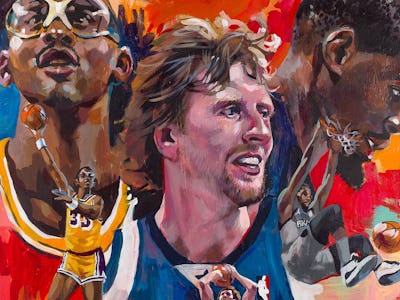 Get your sneakers ready for the jump ball: NBA 2K22 is coming. Below, we detail all you need to know about the game including its launch day, cover athletes, editions, pre-order bonuses, and more. Are you ready to embark on yet another VC grind this fall? Then you've come to the right place.
When is the NBA 2K22 release date?
According to its official announcement release, NBA 2K22 releases September 10, 2021 across PS5, PS4, Xbox Series X|S, Xbox One, Switch, and PC. That date may change as it gets closer, but the team at Visual Concepts has typically been pretty good at sticking to its originally announced date.
Is there an NBA 2K22 trailer?
Per usual, there are quite a few different trailers for NBA 2K22, all designed to highlight the game's various modes. Here are the major trailers released thus far.
Gameplay Trailer
MyTeam Trailer
The City Trailer
What's new in Gameplay?
Gameplay was outlined in Courtside Report #5. Here are the highlights of the blog post.
Defense
Shot contests and blocking have been rebuilt to remove "ghost contests."
More freedom of movement in body-up rides and bumps. Shifts, launches, stops, and cuts all feel tighter, with improved foot plating.
Greater emphasis on the Steal attribute
AI Defense
Defenders are more consistent in positioning.
Improved hedge defender logic.
AI sends drive help at the right moments, and AI will choose the right guard scenario when asked for drive help.
Dribbling
1-to-1 Signature Size Ups replace the Basics Size Ups, which means players have full control over unique player dribble styles, with 50 to choose from.
There are 32 Signature Combos that can be triggered using Sprint and flicking the Pro Stick up.
Faster pace and tighter control in dribble movement.
WNBA dribble styles added.
Tall players no longer outpace shorter ones un Speed and Ball.
Post
New movement and moves, including cancels and aborts.
Shooting
New shot meter with dynamic windows based on who the shooter is.
Smart shooting will be more rewarding than in past games and can overshadow shot timing.
Finishing
Blockers have been empowered to make more stops at the rim.
Additional shot meter added for alley-oops and skill dunks.
Sprint+down will force an aggressive dunk with the right player.
Dunk celebrations added.
Dunk Style Creator added.
Builds, Badges, and Takeovers
More badge points in builds.
Badge Loadouts let you swap equipped Badges based on the conditions of the game.
80 total badges.
Takeover Perks enhance existing Takeovers.
New Badges
Fast Twitch - Ability to get off the floor quicker for standing layups and dunks
Grace Under Pressure - Ability to convert standing layups more effectively
Limitless Takeoff - Ability to soar from further away on driving dunk attempts
Mouse in the House - Ability for bigs to finish over shorter players more efficiently
Unstrippable - Ability to secure the ball better when gathering for a layup/dunk in traffic
Chef - Ability to knock down Steph-like off-dribble deep 3's
Limitless Spot-up - Ability to hit logo-range 3's off a catch and shoot
Lucky #7 - Boosts your ability to score when shooting early in the clock
Mismatch Expert - Ability to successfully shoot over taller defenders on a switch
Glue Hands - Ability to make difficult catches and quicker branch out to a shot or dribble
Hyperdrive - Boosts the speed and effectiveness of moving dribble moves
Quick Chain - Boosts the ability to quickly chain dribble moves together
Post Playmaker - Boosts the effectiveness of both shots and moves when playing in the post
Triple Threat Juke - Increases the effectiveness of triple threat fakes, jabs, and go moves
Ball Stripper - Ability to strip layup and dunk attempts more effectively
Hustler - Ability to get to those scrappy 50/50 balls quicker than opponents
Menace - Significantly drops the offensive ratings of opponents when you smother them
What are the NBA 2K22 pre-order editions?
This year NBA 2K22 exists across three different editions:
Standard Edition: $60
Cross-gen Bundle: $80
NBA 75th Anniversary Edition: $100
Here's what each one offers as a pre-order bonus:
Standard
5,000 Virtual Currency
5,000 MyTEAM Points
10 MyTEAM Promo Packs (delivered one a week)
A Boost for each MyCAREER Skill type
A Boost for each Gatorade Boost type
Luka Doncic MyPLAYER Jersey
95-rated Luka Doncic MyTEAM Free Agent Card
Cross-Gen
(Offers access to last-gen and current-gen versions of the game within the same console family.)
10,000 MyTEAM Points
10 MyTEAM Tokens
Sapphire Kareem Abdul-Jabbar, Dirk Nowitzki, and Kevin Durant MyTEAM Cards
22 MyTEAM Promo Packs (Receive 10 at launch, then three per week for four weeks)
Diamond Jordan Shoe MyTEAM card
Coach Card MyTEAM Pack
10 Boosts for each MyCAREER Skill Boost type
10 Boosts for each Gatorade Boost type
Four Cover Athlete T-Shirts for your MyPLAYER
MyPLAYER backpack and arm sleeve
Custom-design skateboard for MyPLAYER
75th-anniversary bundle (also offers cross-gen benefit between same console family)
100,000 VC
10,000 MyTEAM Points
10 MyTEAM Tokens
Sapphire Kareem Abdul-Jabbar, Dirk Nowitzki, and Kevin Durant MyTEAM Cards
22 MyTEAM Promo Packs (Receive 10 at launch, then 3 per week for 4 weeks)
Diamond Jordan Shoe MyTEAM card
Coach Card MyTEAM Pack
10 Boosts for each MyCAREER Skill Boost type
10 Boosts for each Gatorade Boost type
Four Cover Athlete T-Shirts for your MyPLAYER
MyPLAYER backpack and arm sleeve
Custom-design skateboard for MyPLAYER
Who are the NBA 2K22 cover athletes?
As seen above, standard and cross-gen bundles feature Luka Dončić. The 75th-anniversary version has artwork with legendary Big Men Kareem Abdul-Jabbar, Dirk Nowitzki, and Kevin Durant. If you buy the Standard Edition at GameStop, there's also a version with WNBA superstar Candace Parker on the front.
What about the NBA 2K22 soundtrack?
Over the last two years 2K released soundtrack playlists for its NBA 2K titles in advance of their release, but that isn't happening with NBA 2K22. Instead, the developer has simply listed a smattering of artists fans can expect to hear when they boot up the game on September 10.
Boldy James and the Alchemist
Saweetie ft. Doja Cat
Dreamville with Earthgang and J. Cole
Travis Scott ft. Young Thug and MIA
Megan Three Stallion
The Game
BLXST ft. Ty Dolla Sign and Tyga
Jack Harlow
Bishop Nehru ft. Doom Smino
Nxworries
Thundercat
Nas
Metro Boomin ft. Gunna
Migos ft. Youngboy Never Broke Again
Gunna ft. Young Thug
Mick Jenkins
People Under the Stairs
Saint Jhn ft. Future
Swizzy
Freddie Gibbs Aitch
Pi'erre Bourne
Young Thug
Juice Wrld
24kGoldn
Insightful
Jordan Lyles
The Lamonts
New music will be added to NBA 2K22 on a seasonal basis, so this selection is likely to expand substantially over the course of the year.
What will be featured in MyCareer?
MyCareer was detailed in Courtside Report #7. Here's a summary of the article.
Your player character, MP, is a skilled baller with a strong social media presence. He moves to the City with his friend and manager Ricky Bennett.
Build reputation through pickup games, college, training sessions, interviews, and more in a more open experience.
New characters like shopkeeps, PR Directors, reporters, and various brand reps.
A quest system similar to open-world RPGs with unique side quests and main quests that add up to an individual narrative. Optional questlines feature arcs in music, fashion, and more. There are also races and interviews too.
Five Daily Quests that offer VC, XP, Personal Brand Points, MVP Points, gear, and more.
Personal Brand: You'll be categorized as a certain person, like Free Spirit or Corporate, based on your acions on and off the court. This classification influences your off-court opportunities.
Everything you do earns MVP Points that bring you closer to being crowned an MVP of the City. MVPs get a penthouse, quick access to affilliation courts, and more.
Seasons rotate every six weeks with new quests, apparel and more.
Seasons have 40 levels with a new permanent reward at each level. Hit level 40 in any four seasons to reach Legend status.
Every season adds four long-term Stat Quests and a Race of the Week. Winners of the race get 1 million VC, but other participants can get MVP Points, smaller amounts of VC, and XP.
The City (next-gen)
Improved visuals and new load-free interiors.
New locations like coffee shops and a farmer's market.
The City changes with each season.
New brands include DIM MAK and Billionaire Boys Club.
Matchmaking for 3v3 player vs player, 3v3 player vs AI, 3v3 player vs player Cage Match, and 1v1 player vs player.
Affiliations return with each one occupying a certain borough.
Gatorade Private Courts added with no VC fee to use.
The Neighborhood (last-gen)
Takes place on a five-tier boat.
NPCs assign quests.
MyCourt, Pro-Am, and Team Practice are all on the same floor. The court functions as your home base.
Pro-Am 3v3 takes place in the Engine Room.
Rewards earned at Ante Up, Game Room, Restaurants, Daily Pick Em, and Daily Spin.
Seasonal Excursions will get you off the boat.
What will be featured in MyTeam?
In Courtside Report #6 2K went into great detail on the new features coming to MyTeam in 2K22. Here's a recap of the major additions.
MyTeam: Draft
At the start, each player gets seven packs to pick 13 players and a coach from a pool of the latest cards. The Featured Pack will start players off with at least three good, current cards.
A run equals 10 wins or three losses. At the end of a run, you draft a new lineup.
Every draft you get a guaranteed League Pack and a Draft-exclusive ascension.
More Ascension Packs get added with each win.
Grand Prize player with every season.
TTO: The 100
Players start with 100 points and these points are subtracted based on how many points your opponent scores.
Once you hit zero, you reach the bottom tier of prizes and your run is over.
Season-exclusive reward players return.
Pick-Up and Skill Challenges
These replace Weekly and Moment Challenges.
Pick-Up: Every day you can compete against an AI team similar to your own for a once-daily reward.
Skills Challenges: Are more similar to Weekly and Moment Challenges. They're based on completing specific objectives, and you don't always have to win the game to do so. Rematches allow you to restart failed challenges quickly, and you can complete Skills Challenges out of order.
Spotlight Challenges: There are 20 of these that unlock one of 15 Event Cards required for Diamond Luka Dončić.
Event Cards
Cards that are pulled during limited-time events that touch all facets of MyTeam.
Collecting the first 15 offers access to a Diamond Luka Dončić.
Holo Player Cards
The rarest tier of cards. Every auctionable card can be a Holo.
They have identical attributes but varied Agendas and Lineup Rules.
Card Grading
Auctionable cards can also be graded by 2K and sent back with a rating from one to 10.
Graded cards get bonus MTP in every game played.
Shoe Crafting
You can essentially make shoe cards with any boost you like for a given player.
Boosts have Bronze, Silver, Gold, and Diamond tiers.
Starters and Option Packs
For the first time, players can earn all five Starter Cards by fully evolving a Starter Player to unlock a Starter Option Pack.
Keep evolving starters to get all five, plus an Emerald Phil Jackson coach card.
The MyTeam Base Set
Current and former players that make up the pool of cards.
There are 45 Dynamic Duos to start the year.
Customization
Jersey Cards can be used to select your team's home and away uniforms. Games must be played against players with different-colored jerseys.
Court Floors and Arenas are now separate cards.
Complete Lifetime Agendas by playing with any Player Cards from an NBA Team to earn these customization options.
Collector Levels
There are 50 levels with different rewards based on the number of cards one collects.
What's new in MyNBA?
Courtside Report #8 detailed the new features in tow for the MyNBA offering of 2K22. Here's what we know.
MyStaff
New attributes, double the number of staff badges, and new roles.
Four departments: front office, coaching, scouting, and sports medicine. Each of these has multiple staff members with individual jobs. You need a head of each department, and there are 17 total positions.
Staffers can switch departments as long as their attributes allow it.
New Staff Cards more clearly show the growth of your employees.
Training
Prep Hub shows a more generalized view of your readiness for a given opponent and your coaching staff's ability to overcome them.
Clearer ability to plan practice weeks in advance while managing the risks and workload for individual players.
Individual Training allows you to tailor routines to specific players.
Spreadsheet displays look better than before.
Conditional Coaching allows players to coach while they simulate games.
What's new in the W?
The W was detailed in Courtside Report #4. Here's what we learned from the blog post.
Badge-based progression has been introduced with freely customizable badges.
Fill the meter by playing games, and play games to earn Badge Points.
Three new off-day activities.
Scrimmages added to improve your player and team chemistry.
Do drills at team practices to upgrade badges.
Contact Workouts featuring some of the WNBA's biggest stars.
When online you can team up with friends before matchmaking.
Earn Season XP, rewards, and new Contacts by playing games.
Will there be an NBA 2K22 demo?
NBA 2K fans have made a habit out of downloading the latest game's yearly demo to get a first look at the MyPlayer builder, its badges and potential god builds for the upcoming game. Unfortunately, that doesn't look to be the case this year, so fans will have to wait until September 10 to start their NBA journey.
This article was originally published on