How and when to pre-order a Nintendo Switch OLED as soon as possible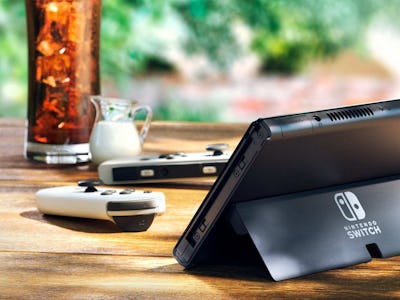 For the last two years, Nintendo Switch has dominated gaming sales charts as the best-selling platform. Alas, not all kingdoms are built to last with the same ruler.
Nintendo is changing things up by dropping a spiffy new Nintendo Switch OLED model set to debut on store shelves in October. The OLED model will arrive with new features like an ethernet compatible dock, a full-body kickstand, and vibrant colors. If you're excited about getting the Nintendo Switch OLED, you must be wondering how exactly you can pre-order this technological gazelle.
Here's everything we know about purchasing the Nintendo Switch OLED model.
When is the Nintendo Switch OLED pre-order date?
Pre-orders for the Nintendo Switch OLED model opened on July 15 at 3 p.m. Eastern. Let's hope they stay available. It's crucial to confirm that you'll get the console before it actually hits the market. It's already tough to find the original Nintendo Switch. We can assume it'll be equally difficult to find its upgraded version.
Other modern consoles like the PlayStation 5 and Xbox Series X have undergone numerous cycles of restocks. It's likely that the Nintendo Switch OLED model will be no different.
Where can you pre-order the Nintendo Switch OLED model?
Like most gaming consoles, the Nintendo Switch OLED is basically available everywhere. You can snag your own console from most of your favorite shops. Select your preferred retailer from the list below:
Other popular retailers like Target and Amazon have yet to launch proper pages for the Nintendo Switch OLED Model, but you can stalk their official Switch landing pages. Hopefully, these will be updated in the near future with OLED details:
Will there still be a Nintendo Switch Pro?
Nintendo Switch OLED was preceded by a lengthy rumor cycle focusing on an upgraded Nintendo Switch complete with a 4K display, upgraded processing power, and an overall improved experience. Many were holding out for that console. If you were waiting for that console, should you continue to sit on your hands for a stronger system?
After the announcement of the OLED model, Inverse reached out to analysts on if they believed the Pro was still on the way. "I believe we will see a stronger upgrade than this one along the line before Nintendo releases an all-new console," Serkan Toto of Kantan Games said.
On the contrary, Omdia Senior Analyst of Marketing and Games, Matthew Bailey, claimed the opposite. "It's more likely that the upgrades designed to increase performance and graphical fidelity will be part of Nintendo's next-generation console," Bailey said.
For more analysis, read our full article on the topic.
Nintendo Switch OLED will be available on October 8, 2021.
This article was originally published on