MultiVersus could be the first Smash clone to truly challenge the throne
Everything's better with friends.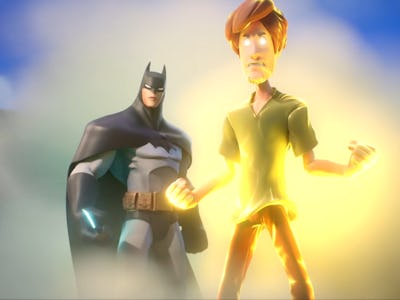 YouTube.com/Warner Bros. Games
Playing MultiVersus is like discovering a long-lost cartoon special.
In a style so similar to Nintendo's Super Smash Bros. that it borders on mimicry, MultiVersus is a platform fighting game where cartoon mayhem is prioritized over sophisticated martial arts (like Tekken) and gore (like Mortal Kombat).
But what's most shocking, at least from this week's early access alpha, is how satisfying the combat feels. Everything from character movement to the tactile thud of connected attacks gives MultiVersus genuine legitimacy as a competitive fighting game to a far greater extent than its busy branding implies.
Given the vast ocean of intellectual property MultiVersus can access, it's tempting to dismiss MultiVersus as a portfolio showcase by the newly-christened Warner Bros. Discovery. Warner Bros. has the keys to everything from Batman to Bugs Bunny, and MultiVersus is a fireworks display of corporate consolidation. But after a few bouts, and an enlightening conversation with director Tony Huynh, I have to yield: MultiVersus is a lot of fun, and mostly succeeds in what it sets out to do. It will surely stand a chance against the giants of the genre, and with its rock-solid foundation and standout philosophy, it could even topple the competition.
Teaming Up to Throw Down
With the iconic Looney Tunes serving as a visual north star, MultiVersus is replete with mischief. Even thematically darker characters like Batman, Harley Quinn, and Game of Thrones' Arya Stark, appear in eye-popping high contrasting colors and exaggerated features. The audience for this game is visibly meant to appeal broadly, from children to geriatrics.
Mechanically, the game is evocative of most party brawlers, like the aforementioned Smash Bros., Brawlhalla, and Viacom's own Nickelodeon All-Star Brawl. MultiVersus has the featherweight feel of the latter. The Superman serials famously said that he can leap tall buildings in a single bound, but in MultiVersus, so can everyone else.
What gives MultiVersus an edge over other Smash clones is an emphasis on team-based gameplay. While one-versus-one matches are a feature, MultiVersus wants to be a game you play with friends, not against friends. Two-versus-two matchups are the soul of MultiVersus.
"We're a social-focused game," director Tony Huynh tells Inverse.
The CEO and Co-Founder of MultiVersus developer Player First Games, Huynh says the priority on team-centric gameplay has influenced the game "from the ground up."
"You have to think about the whole game differently," Huynh says, "It's co-op first. Everything revolves around that. The mechanics are built around that specifically, the loops of the characters are about bread and butter co-op."
"We're trying to remove as many barriers as possible to play the game."
Almost every character in MultiVersus features fundamentally cooperative actions. If you're playing as Batman, you can shoot a grappling hook to your partner and throw a smoke grenade that shrouds your location. Wonder Woman's shield can guard allies, and her Lasso of Truth can rope them to safety. (Wonder Woman is also generally fun to play, and an early main for me personally.) If you're Velma from Scooby-Doo, she can "shout words of encouragement" that Huynh says "auto tracks her ally and buffs them." Velma can also pick up friends and carry them, à la the Scooby-Doo cartoons. (Zoinks!)
As Huynh puts it, "You just press a button and co-op happens."
In using a historic brand whose pop-culture origins date before the medium of video games, accessibility is only logical. "IP helps from a designer's perspective," Hyunh tells Inverse, "We're trying to remove as many barriers as possible to play the game."
But Hyunh says the team at Player First Games is striving to add a "deep mastery curve" with a dash of discovery. That comes through in unusual combinations of characters and the game's "perk system" that players can use to spice up characters with enhancements.
Even the developers have been discovering things in what they've designed. "The game is sandbox based," says Huynh, with "very simple mechanics that are understandable, but in combination with other mechanics, there's depth."
He adds, "Three years of working on it, we're still finding things that can happen based on these combinatorial properties we haven't seen before."
Making the Tune Squad
The platform brawler was innovated by Nintendo twenty years ago with the original Super Smash Bros. Since then the genre has become shorthand for a corporate entity to boast what beloved brands it owns. After last year's IP-crammed Space Jam: A New Legacy and 2023's The Flash centered around the multiverse, now is prime time for the former Time Warner to enter the fray. The game's confirmed roster includes heavy hitters like the DC superheroes and Looney Tunes, while the inclusion of HBO's Game of Thrones implies interest beyond cartoons and comics.
Hyunh says MultiVersus only needs to ask Warner for any character's inclusion, but there are still a few more factors to consider before making the request.
"It's a combination of talking to players and seeing what they want, and from our perspective, can we realize this character?" he says. "WB has been open to entrusting us with characters. On our part, we have to prove we understand these characters at a very deep level."
"You just press a button and co-op happens."
A lot of research is conducted by the team for every character, from how characters move to how they work in a cooperative melee. Hyunh brings up Superman as an example. The Man of Steel doesn't run but "walks you down like a badass" and can "teleport right in front of you." His bulletproof skin means he can dash before allies and stand impervious.
"Every single character has to deserve that roster spot," Huynh says, "We have to make sure the character is pushing some boundary. Every character plays uniquely. I don't want to make another character that's very similar to another. That is key to what we're trying to do: Can we push boundaries?"
While there are bound to be a few no-brainers fans will demand, be it Godzilla to the Mortal Kombat ninjas, there are open-ended possibilities.
"Just go on Wikipedia," Huynh jokes. "There's a lot of stuff you can pick from."
Having Fun at the End
MultiVersus still has a way to go before it feels finished and polished. If not for its branding, it is indistinguishable from everything else in the genre. The team-based mechanics are novel, but those who prefer to play solo will struggle to see what's special.
It's also not hard to feel cynical about its central appeal. In an era when art and creativity are persistently mulched into fodder for capital-C content, it's hard to be excited by a Smash clone from a mass media giant. That all these games only prove that the best thing about Super Smash Bros. is the singular artistry of known workaholic Masahiro Sakurai is some bitter irony to swallow.
Pop culture may be slowly de-morphing into an indecipherable thing where art loses to commerce, but if MultiVersus succeeds, we'll be having too much fun to notice.
MultiVersus is set for release on PC, PlayStation 4, PlayStation 5, Xbox One, and Xbox Series in 2022.