Mortal Kombat 1 Steals Marvel vs. Capcom's Best Mechanic
Teamwork makes the dream work.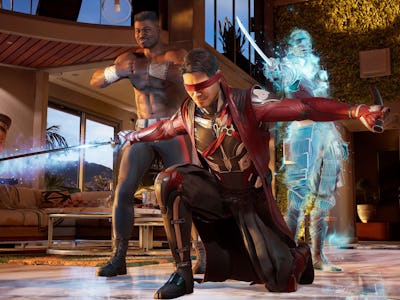 Warner Bros. Interactive.
What's old is new again in Mortal Kombat 1, the upcoming reboot to the ultraviolent 30-year-old fighting game franchise. Fans got an extended look during Summer Game Fest 2023, which highlighted how MK1 reimagines classic characters, but in addition to a new take on the familiar world, the reboot also offers a chance for the series to inject new life into the same old gameplay. The most exciting change is Kameo Fighters, which brings a beloved feature from the Marvel vs. Capcom games to Mortal Kombat.
The first gameplay for Mortal Kombat 1 shown off during Summer Game Fest was all in-game, giving fans a look at the new entry's combat. While the brutal fatalities the series is known for return, the ability to have other characters aid you in battle (aka, Kameo Fighters) is an exciting addition to the series.
Most fighting games fall into the category of either individual or team-based. Mortal Kombat has always been the former, letting players choose their fighter and duke it out one-on-one against friends or the computer. On the other hand, games like Marvel vs. Capcom are team-based fighters, which let you choose up to three characters to face off against your opponent's rival squad.
The fun of a team-based fighting game is the need to master multiple characters and consider how they play to each other's strengths and weaknesses. This adds a massive amount of flexibility and customization. Suddenly, overpowered opponents can be easily countered with an additional fighter on your team. With the tap of a button, you can call in a character on your proverbial bench to do an assist attack and catch your enemy with an unexpected assault.
Mortal Kombat 1 looks to add this level of complexity to the franchise. Series creator Ed Boon described how Kameo Fighters work during the Summer Game Fest showcase, saying that players will choose their primary fighter in a traditional character screen. After that, a secondary screen will appear with an entirely new roster that will act as your Kameo Fighter. This brings more complexity to how Mortal Kombat 1 will be played.
Say you want to main Scorpion, but you like certain moves that Sonya has. Now you could have both, by selecting Sonya as your Kameo Fighter. It's hard to conceive of just how much this changes Mortal Kombat's basic gameplay.
In competitive play, Kameo Fighters level the playing field by giving players the ability to effectively counter the opponent's primary character. The meta for Mortal Kombat 1 will be ever-changing, but also more balanced due to the Kameo Fighters. Another benefit of Kameo fighters is that they make combat more exciting as a whole. There is now a massive amount of unique fighting styles that the game allows for, without having to make dozens of individual fighters. Mixing and matching primary and Kameo fighters now means that every primary character has a handful of unique play-styles to choose from.
NetherRealm Studios is using Mortal Kombat 1 as a way to reboot the franchise's overly complicated world, but the mechanics of the series look to benefit the most from this reinvention of the exciting potential of Kameo Fighters is anything to go on.
Mortal Kombat 1 releases September 19 for Nintendo Switch, PlayStation 5, Windows, and Xbox Series X/S.