Play the Best Supernatural Adventure on Xbox Game Pass Before It Leaves Next Week
Life is Strange: True Colors wants you to feel all the feelings.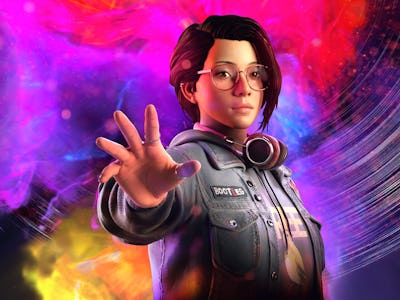 Square Enix
Heroes get celebrated for lots of things. We flock to superhero stories about a character's strength, intelligence, or mutant laser-making. In most of our hero stories, we celebrate big physical gifts or trickery and cunning. And while we want our heroes to have that heart of gold, rarely is that what we celebrate despite the fact that it is, on the long list of cool hero skills, the one we can most readily attain. Empathy is the thread binding all the best heroes together, but what if empathy was the only power someone had? Can that be as heroic as a mutant laser?
Life is Strange: True Colors explores this. The fifth entry in the franchise, True Colors is the most recent entry and arguably its best — and the fact that it leaves Xbox Game Pass very soon gives you an extra reason to play it ASAP.
The game follows Alex Chen, a troubled teenage girl whose second chance at life is cut short by the mysterious passing of her brother, Gabe. A whodunit adventure largely driven by the writing and character work, the mechanics hinge on one supernatural element: Alex's ability to see and sometimes manipulate emotions.
Life is Strange: True Colors is considered among the best of the Telltale-style adventure games of the last decade, and a return to form for its franchise even though it deviates from it in some big ways. For starters, it's a new studio. Deck Nine took over for franchise creator dontnod and wasn't afraid to shake things up. The biggest change? True Colors is a single release, breaking away from the episodic format in earlier titles.
This has the effect of making True Colors a great entry point for players who may have shied away from the unconventional releases and also offers something new for franchise fans hungry for something new. It affects the narrative too; True Colors is less reliant on big twists. Even Gabe's demise doesn't happen right away. Unlike previous Life is Strange games which hit you with the mystery from the start, instead players get a little extra time to drink in the gorgeously detailed town of Haven Springs, Colorado.
Haven Springs is the sole setting for True Colors, a parallel it shares with the first game in the series which took place entirely in Arcadia Bay, and it works wonderfully. The Rocky Mountain High vibes are obvious everywhere you look, but the detailed interiors and abundance of interactive objects keep the gameplay grounded. As Alex explores (and struggles to control) her powers, the hyperrealistic setting provides a perfect contrast for just how weird stuff is going to get.
As Alex digs for the truth about her brother's passing, she can't help but uncover a lot of other secrets in the process. Small-town drama runs deep, and she often finds herself faced with difficult decisions. Those choices really matter here, more so than almost any other game in the genre. There are multiple endings, which you'd expect, but multiple versions of Alex too. You'll see her begin to be affected by the choices you make and, thanks to how immersive the game is, wonder if they're affecting you, too. Like all heroic traits, even empathy can be a double-edged sword that causes problems of its own.
Life is Strange: True Colors is the perfect palate cleanser when you get fatigued from a massive grindy binge or weeks chasing online wins. An elevated, thoughtful example of how broad the definition of the word "game" can be, it's a compelling story with great characters and one of the best lead performances anywhere. Play it ASAP.
Life is Strange: True Colors leaves Xbox Game Pass on April 15, 2023. It's available for purchase on Xbox, PlayStation, PC, and Switch.