5 Essential Honkai: Star Rail Materials to Farm for Jing Yuan
Seele's era is over...or is it?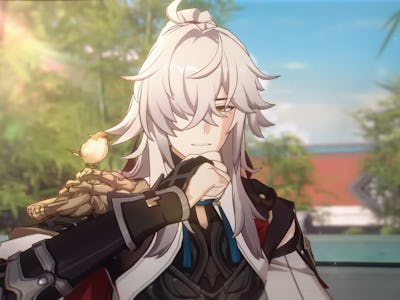 HoYoverse
Jing Yuan is set to be the latest Honkai: Star Rail power trip. The Cloud Knight General welcomed the Trailblazer and friends to the Xianzhou Luofu but has yet to reveal everything he knows about the web the Stellaron Hunters are spinning. What we do know is his heartwarming relationship with his apprentice Yanqing, one of the game's strongest characters, and his past with his master, Jingliu. Is that enough to pull the heartstrings of the players? Well, that's only for you to answer.
Like Genshin Impact, Honkai: Star Rail allows you to farm for materials in advance so that your new characters can catch up with your fully leveled team members.
Here's what you need to farm to fully level Jing Yuan, the new Honkai: Star Rail 5-star character.
Honkai: Star Rail Jing Yuan Character Ascension Materials
Characters max out at level 80. However, they will only be able to reach that level after they reach a high enough Trailblaze Level. Here's what you'll need to eventually max level Jing Yuan.
15 Immortal Scionette
15 Immortal Aeroblossom
15 Immortal Lumintwig
65 Shape Shifter's Lightning Staff
Approx. 308,000 Credits
The exact number of Traveler's Guides is a bit tricky to pin down. However, we can tell you where to get them. All characters need experience books, so this step will apply to any character you want to level up. Traveler's Guides and other EXP books come from Golden Calyxes, which are one of the first daily challenges you can unlock in the game. You can find Calyxes in the Interastral Guide and teleport directly to them.
As for Credits, Honkai: Star Rail's currency, you can get them from completing almost any task from daily challenges to missions. You can also get them from Golden Calyxes, though. Every character needs about 308,000 to fully ascend to level 80.
1. Where to Find Shape Shifter's Lightning Staff
There's more than one place to farm ascension materials for Lightning characters. This one is specific to Jing Yuan and other Lightning characters from Xianzhou Luofu. If you haven't made it to the Xianzhou Luofu yet, you won't be able to farm Shape Shifter's Lightning Staff for Jing Yuan.
Once play through the relevant story quests, all you need to do is explore the southeast corner of the Stargazer Navalia. There should be a winged emblem indicating a Stagnant Shadow you can enter.
2. Where to Find Keys of Knowledge and Inspiration
You can farm Keys of Inspiration and Knowledge from Belobog's Rivet Town. If you haven't unlocked this Calyx yet, teleport to Rivet Town and travel to the marked location on the map. It should look like a ball with a little string coming out of it.
Once you unlock the Calyx, you can teleport straight to it from your Interastral Guide anytime you want. Just make sure you have the Stellar Jade to claim rewards.
3. Where to Find Immortal Aeroblossom and Scionette
You can naturally find Immortal Scionettes and their higher level form, Immortal Aeroblossoms, from defeating Marastruck enemies on the Xianzhou Luofu. If you don't have the patience to do that, you can also just collect Immortal Scionettes from Assignments and turn them into Aeroblossoms with the Synthesizer. It's also possible to use the Synthesizer to transform other materials like Silvermane Badges into Immortal Scionettes.
Defeat Mara-Struck Soldiers and Xianzhou Luofu enemies
Collect from Assignments (preferably with Hunt characters)
Trade in other materials using the Omni Synthesizer
Honkai: Star Rail Jing Yuan Trace Ascension Materials
Many of Jing Yuan's Trace Ascension Materials overlap with his Character Ascension Materials. The key differences are the Echo of War drop, Destoryer's Final Road, and the Tracks of Destiny. According to the information from the official beta (via Twitter user hsr_ralts), here's what you need to max out Jing Yuan's basic attack, skill, ultimate, and talent:
42 Immortal Scionette
58 Immortal Lumintwig
56 Immortal Aeroblossom
18 Key of Inspiration
69 Key of Knowledge
139 Key of Wisdom
12 Destroyer's Final Road
11 Tracks of Destiny
Approx. 3,000,000 Credits
4. Where to Find Destroyer's Final Road
Destroyer's Final Road is a weekly boss drop that comes from the Echo of War on Herta's Space Station. It's the boss battle from the prologue when the Trailblazer and team challenge the Antimatter Legion's Doomsday Beast. You will get more Destroyer's Final Road and more valuable rewards per battle with the Doomsday Beast as your Trailblaze Level rises.
You can only claim Echo of War rewards three times a week. If you want to prioritize Jing Yuan, start farming Destroyer's Final Road and leave the other Echo of War materials for later.
5. Where to Find Tracks of Destiny
Tracks of Destiny are special items that let you fully level your trace abilities. Like in Genshin Impact, you only want to max out your most valuable characters because of how costly it is to max out your Traces. You can get them from various locations like Trailblaze Level Rewards or from shops. Keep an eye out for other places to get them like limited-time events!