Here's exactly when you can play the GTA Online Los Santos Tuners update
When can you pimp your ride in GTA Online?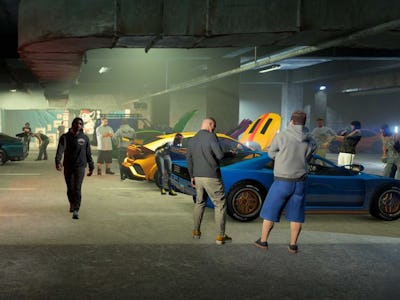 Rockstar Games
Grand Theft Auto Online's next big expansion will be released on July 20, 2021. So naturally, we want to make sure you're there to download it as soon as it goes live. Below, we outline when the new DLC will be released and explain everything players can expect to see once the content is in their hands.
Your car will have never looked better thanks to this latest addition to Rockstar's popular multiplayer platform.
When is the GTA Los Santos Tuners update release time?
While GTA Online's developers at Rockstar Games have yet to officially reveal a release time for the Los Santos Tuners update, most of the game's substantial expansions typically release somewhere between 4 a.m. and 5 a.m. Eastern on the day of release. With that in mind, the Los Santos Tuners update should start rolling out July 20 within that time window. For example, December's Cayo Perico Heist was fully deployed around 5:30 a.m. Eastern.
Players on PlayStation may want to look for a patch labeled as version 1.38 or higher to know they're getting the most recent DLC.
What to expect from the Los Santos Tuners update
True to its name, the GTA Online Los Santos Tuners update focuses heavily on car culture, showing off your customized rides, and taking on jobs with high-speed thrills. Here's a rundown of everything you can expect to see in the update, thanks to the official Rockstar Newswire blog post.
The LS Car Meet: This new social space in Cypress Flats focuses on showing off your rides, racing, and linking up for car-centric missions.
New Progression: Level up your street racing Reputation to unlock new car parts, gear, modes, and the ability to hold private car meets.
Test Track: An area where you can race other players without interference from the cops or pedestrians. Start basic head-to-head races or Scramble, where up to four players race to hit 20 checkpoints. There are also time trials. The space features up to 30 racers at once, with contact disabled during competition. There's also a Solo Test Track for those who prefer to ride alone.
Test Rides: Try out a bunch of cars you don't own on a rotating basis.
Prize Ride Challenges: Complete special challenges for a chance to win unique cars.
New Shops: A Merch Shop, Tattoo Shop, and Modding Area are open for you to purchase cool goods from.
New Races: Called the Street Race Series and Pursuit Series. The former is a tightly paced street race, while the latter is a longer race with cops in pursuit. There's also Point, which is essentially a drag race for up to four players.
New Cars: The Karlin Calico GTF, Karlin Futo GX, Annis Euros, Vapid Dominator GTT, Annis ZR350, Dinka RT3000, Vulkar Warrener HKR, Obey Tailgater S, Dinka Jester RR, and Annis Remus join the roster. The DLC features 17 total cars, 10 of which release on July 20.