How to find and unlock all 35 Nornir Chests in God of War Ragnarok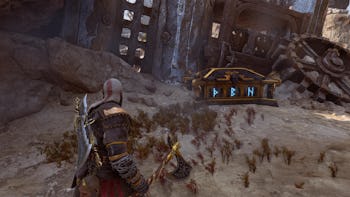 Sony Santa Monica's fantasy epic God of War Ragnarok is here. Throughout the game, players will encounter a wide variety of dangerous monsters and gods from across Norse mythology. You'll need every possible edge to beat these fearsome foes, and that means scouring the corners of the Nine Realms for collectibles — including Odin's Ravens — and looking for useful upgrades. That's where Nornir Chests come in.
Unlike other kinds of chests, Nornir Chests can't be opened immediately. Instead, you'll have to solve a small puzzle for every single chest, destroying (or lining up) the correct sequence of three runes in order to unlock the chest. Each chest contains a rare item that improves either your health or Rage meter.
We've pulled together a list of every Nornir Chest in God of War Ragnarok so you don't miss out, organizing the list by Realm. This means you can scroll around and find the particular Realm or chest you need help with.
Warning: Mild location and companion spoilers ahead.
What do Nornir Chests unlock in God of War Ragnarok?
Every Nornir Chest includes one of two items: Idunn's Apples and Horns of Blood Mead. The former is used to increase Kratos' Health, while the latter increases his Rage meter. Every time Kratos' Health or Rage are upgraded, it'll take one additional count of the item in question to reach the next upgrade. So as an example, the first time you upgrade Kratos' Health, it'll take one of Idunn's Apples. The second upgrade requires two, the third upgrade takes three, and so on.
In order to unlock a Nornir Chest, you'll have to trigger the correct three runes that are displayed on the chest. This can mean destroying small figurines with said Runes, rotating pills with Runes into the correct order, and lighting flames above runes on braziers.
Alfheim
Alfheim has been expanded since players last explored in the previous game, and there are seven different Nornir chests to find as the war between the Light Elves and Dark Elves rages.
Midgard
Being careful when exploring the snow banks and ice of Midgard will help you to find more upgrades with four additional Nornir Chests.
Muspelheim
Once again Kratos will be braving the ash and lava flows of Muspelheim, and there are two Nornir Chests to find if you are careful and observant. One of these works as normal, while the second is a bit stranger.
Niflheim
While Niflheim is much more defined this time around, eschewing the randomized exploration of the deadly mists that many players didn't like, it's still one of the shorter areas in the game. There's only one Nornir chest to find in this realm, and it can only be unlocked after the main path of the game's story is completed.
Svartalfheim
The Dwarf homeland of Svartlalfheim has vast areas to explore with geyser-powered machinery, so it's no wonder that you can find 10 Nornir chests in between killing monsters and rowing your boat.
Vanaheim
With 11 Nornir Chests scattered through the jungles and dense overgrowth, you'll be upgrading Kratos a fair bit while you're in Vanaheim.
God of War Ragnarok is out now for PS4 and PS5.