Where to find all 48 of Odin's Ravens in God of War Ragnarok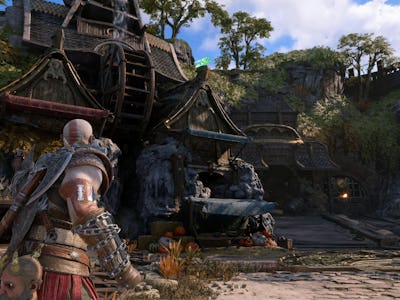 As you make your way through the Nine Realms in God of War Ragnarok, you'll find various kinds of collectibles to acquire. One of the many types returning from God of War (2018) is Odin's Ravens. These glowing green feathered fiends serve the All-Father, Odin, providing reconnaissance for the Aesir. Just like in the previous game, they can be destroyed to earn some extra XP.
This time around, as the Norse saga concludes, there are even more rewards for finding and destroying all the ravens you can. Here's a full list of locations for all 48 of Odin's Ravens in God of War Ragnarok.
We recommend using this as a companion piece for when you're exploring a particular area. Keep in mind that because many Ravens can't be accessed until towards the end of the game, there will be some mild location and companion spoilers ahead.
How to start The Eyes of Odin
Kicking this quest off is extremely easy. The Eyes of Odin begins automatically the first time you destroy one of Odin's Ravens, meaning you can begin starting with your first trip to Svartalfheim.
There's a total of 48 ravens to find across Alfheim, Helheim, Midgard, Muspelheim, and Svartalfheim. Asgard and Jotunheim are free of flying fiends, as is Niflheim, though you will be visiting the latter region in order to obtain your rewards.
The Eyes of Odin: Quest Rewards
After hitting particular milestones when destroying these ravens, you'll want to visit Niflheim. This realm of ice and mist is home to The Raven Tree. Under The Raven Tree, where the spectral spirits of the ravens you've destroyed reside, you'll find six Legendary Chests containing rewards for clearing out more of Odin's spies throughout the realms. Each chest is unlocked by reaching a certain threshold of ravens cleared out.
Chest 1 - Requires 6 Ravens - Girdle of Raven Tears (Waist Armor)
Chest 2 - Requires 12 Ravens - Bracers of Raven Tears (Wrist Armor)
Chest 3 - Requires 18 Ravens - Cuirass of Raven Tears (Chest Armor)
Chest 4 - Requires 28 Ravens - Breath of Thamur (Heavy Runic Attack for Leviathan Axe)
Chest 5 - Requires 38 Ravens - Meteoric Slam (Heavy Runic Attack for Blades of Chaos)
Chest 6 - Requires 48 Ravens - The Finger of Ruin (Heavy Runic Attack for Draupnir)
After you've cleared all 48 Ravens, you'll get access to the Raven Keeper boss fight in the nearby practice arena, which includes having to fight a dragon. Defeating this boss will finish the quest out, earning you 10000 XP for Kratos and 2500 XP for his companion.
All 48 Odin's Ravens locations, explained
We've tracked down every bird and compiled a list of Odin's Ravens in God of War Ragnarok across the Nine Realms. Throughout the game, you'll be revisiting multiple areas, and you'll often need to come back later when you have new equipment in order to explore side areas, especially early on in the game.
As a result, we're organizing this by realm, not by the exact order in which you'll be encountering every single Raven. We've placed images for both the Ravens and their locations on the map.
Alfheim Odin's Ravens locations
You'll be traversing much more of Alfheim this time around, and there are 10 Ravens to find across the stonework and swirling deserts.
Helheim Odin's Ravens locations
Being one of the smaller regions you'll explore in the game, Helheim only has two of Odin's Ravens to find.
Midgard Odin's Ravens locations
While not quite the massive, sprawling hub it was in the prior game, the now-frozen land of Midgard still has plenty to explore, including six of Odin's Ravens to take out.
Muspelheim Odin's Ravens locations
Even in the miserable land of the fire giants, there are two of Odin's Ravens watching your every move.
Svartalfheim Odin's Ravens locations
Odin's influence is directly over the dwarfs of Svartalfheim, so it's quite fitting that you'll encounter 13 of Odin's Ravens amid the wonders of engineering, mines, and natural cave formations.
Vanaheim
The Vanir homeland of Vanaheim is utterly massive, being one of the largest areas to go through in God of War Ragnarök. There's a total of 15 of Odin's Ravens to find here.
God of War Ragnarok is available now for PlayStation 4 and PlayStation 5.