PS Plus Collection Ends in a Few Days, So Claim God of War for Keeps ASAP
Just one adventure from the "dad game" era.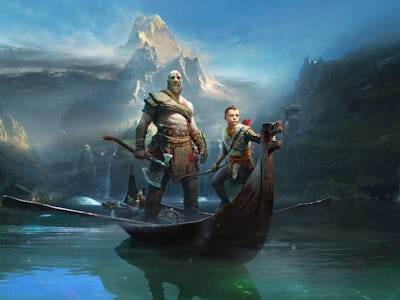 Sony
God of War isn't a very family-friendly series. It began as a brutal action RPG about an anti-hero on a vengeance-driven rampage. Kratos earned the title "god of war" by defeating Ares and many other gods, including his father. God of War (2018) takes the same dude and tasks him with building a relationship with his son by confronting ghosts from his past. Its cinematic storytelling and action-packed gameplay made it one of the best-selling games on PlayStation. Many would argue it's one of the best games ever. So it's a no-brainer that you should claim it on PS5 via the PlayStation Plus Collection before the collection dissolves on May 9, 2023.
God of War (2018) takes place many years after the original God of War trilogy. Developer Santa Monica rebooted the series with an older, wiser protagonist who has put down the Blades of Chaos and is now supporting a family instead of raging at the gods. Kratos and Atreus' story continues into God of War Ragnarök, which was released earlier last year.
Kratos, long known as a Spartan warrior and god, abandoned his warring ways after God of War III and settled down with a family. His second wife recently lost her life from unknown circumstances, leaving Kratos on his own to raise their son, Atreus. The father-son pair set off on a journey to fulfill the matriarch's ashes last wish: to have her ashes scattered from the highest peak of the Nine Realms. On the way, they are attacked by enemy gods looking for Kratos. Thus the story where Atreus finds out about his father's past and the pair become a father-son fighting duo. The result is a more character-rich RPG that still touts the same satisfying, intuitive combat that the series is known for.
The God of War series has a reputation for its combat, and the reboot was no exception. It empowers players with a slew of different abilities and enhancements they can use to customize their playstyle. Kratos prefers his icy Leviathan Axe as his go-to weapon, but he takes up his old Blades of Chaos at one point during the campaign. The setting of Midgard also builds on the sense of mystery that the synopsis offers: You might find something new if you walk just past that crack in the wall.
However, God of War really differs from its predecessors with its story. Kratos isn't just fighting gods anymore. He's confronting his past and learning to be a better father in the process. Atreus isn't just an emotional crutch for him, either. The boy has his own story as the son of a god finding out about his true heritage. Also, he serves as an entertaining contrast to Kratos. Kratos is cynical and serious, but Atreus is excited to explore the world outside of his hometown for the first time. That dynamic adds life and character development to an otherwise grim plot.
So, if you want an action-packed RPG with an award-winning story, try God of War. There's no harm in trying it before the PlayStation Plus Collection shutters on May 9, 2023.
God of War (2018) is available on PC and PlayStation 4. You can also play it on PlayStation 5 thanks to backward compatibility.