Here's When You Can Watch the Genshin Impact Version 3.7 Livestream
We're not quite at Fontaine yet.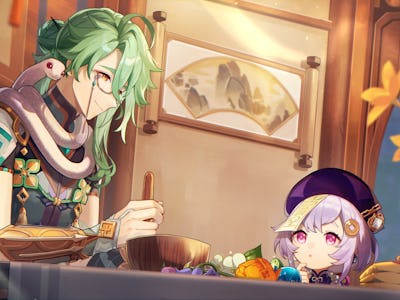 HoYoverse
Genshin Impact is almost ready to move on to a new region called Fontaine. HoYoverse hasn't confirmed when exactly it will be switching gears, but it's been known to jump to the next country at about the "0.8" mark.
Genshin Impact Version 3.7 reportedly won't feature any new story quests or five-star characters. However, it will introduce Kirara, the expressive nekomata (cat people) who originally leaked as Momoka. Some leakers report that there will be some Fontaine teasers, such as the character Charlotte appearing in 3.7's major event. You still have to watch the official Genshin Impact 3.7 livestream to find out for sure, though.
Here's exactly when you can watch it and what you can expect to find out from the broadcast.
When Is the Genshin Impact 3.7 Livestream Start Time?
The Genshin Impact 3.7 livestream will premiere on the official Twitch channel on Saturday, May 13, 2023 at 8 a.m. Eastern. It will rerun on the official YouTube channel an hour later at 9 a.m. Eastern. You don't necessarily need to wake up early to catch it, though. After the original airing, the livestream should be available for anyone who wants to catch up on the news later in the day.
To recap:
Twitch: 8 a.m. Eastern on May 23
YouTube: 9 a.m. Eastern on May 23
Genshin Impact livestreams typically include redemption codes for Primogems, which will be useful for pulling for your favorite characters on the gacha banners. This time, HoYo claims that it will include "drops" and other goodies. It's unclear if that means additional rewards will be available.
If it's just redemption codes, you should also be able to find them from Primogem-scouring Discords and Twitter accounts. Redeem your codes ASAP to ensure you get your rewards before they expire. Redemption codes are known to expire within 12 hours after the official livestream.
What are the Genshin Impact 3.7 banners?
HoYoverse hasn't confirmed the upcoming banners yet. SaveYourPrimos, a reputable Genshin Impact aggregate account, tagged the following banners as semi-reliable leaks. At this time, there isn't any indication that Genshin Impact 3.7 will have new 5-star characters.
3.7 First Half:
5-Star: Yae Miko, Yoimiya
4-Star: Chongyun, Kirara, Yun Jin
3.7 Second Half:
5-Star: Kazuha, Alhaitham
4-Star: Yaoyao, Xiangling, Heizou
Kirara, the new four-star character, has already appeared in official Genshin Impact social media posts. She's a Dendro bow-user and the first Dendro character that will be released for Inazuma. Her most notable qualities are her cat-like ears. Leaks even showcase that her model has more cat-like expressions than is typical, even compared to Diona.
Kirara is already acquainted with a couple of Inazuma characters like General Gorou. We'll have to see her in action to learn more about her.
What Else Will Be Revealed in the Genshin Impact 3.7 Livestream?
Genshin Intel, who is known for leaking Genshin Impact events in advance, outlines plenty of events returning in the upcoming update. One of them will include the leaked Fontaine character, Charlotte. It's unclear what role she will play in the major event, or what that event even is.
Genshin Intel also claims that there will be no new Archon Quests, but there will be a new quest for Yoimiya and hangout events for Kaveh. Yoimiya will be one of the few 5-star characters to have two quests. Meanwhile, Kaveh's incoming hangout events line up nicely with his debut in the 3.6 update.