Genshin Impact Voice Actor Elliot Gindi Fired as More Allegations Surface
Elliot Gindi is NOT Tighnari.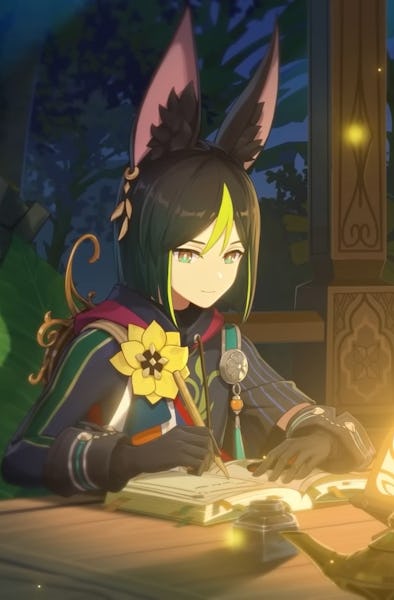 HoYoverse
Elliot Gindi is no longer working on Genshin Impact. After a week of troubling allegations, HoYoverse says it will recast Tighnari's English voice actor.
The #ElliotGindi hashtag started trending on February 7, after Gindi's former Discord and Twitch moderator Matty shared a document (now closed) with messages from alleged victims about their alleged interactions with the voice actor. Many of the victims, some of whom were minors, shared stories involving coercion, grooming, and sexual language.
In its official statement, HoYoverse wrote that it was breaking ties with Gindi for "breach of contract."
Gindi later acknowledged the allegations in the document with a Twitlonger apology, confirming some of the details while denying others. More stories trickled out over the week until the official Genshin Impact account posted a statement in response to the allegations late on February 15.
"After communications with the voice recording agency, we hereby confirm that Elliot Gindi, the English voice actor for Tighnari will no longer be voicing the character in subsequent versions due to a breach of contract," reads the official tweet.
"At present, we are communicating with the voice recording agency regarding matters of casting and re-recording. We will gradually replace Tighnari's existing in-game voice lines, and issue these updates in the corresponding announcements."
HoYoverse doesn't have a timeline for when the recast will be finalized and when the new voice lines will appear in the game.
Response to the move within the Genshin Impact community has been largely positive.
Many of the other Genshin Impact voice actors thanked HoYoverse in the announcement comments as a sign of support. Jenna Yokobori, Yoimiya's voice actor, responded with the following to a story from a victim about others minimizing her and others' abuse.
"ANY of you who are defending this absolute monster can take it up with me," Yokobori wrote. "These victims, most of whom are actual, literal children, are more brave than you will ever be. They do not need to 'let it go'. If you have a problem with them, leave them alone and take it up with me."
Matty, Gindi's former mod who first went public with the story, confirmed to supporters on February 15 that police reports had been filed. Gindi hasn't been active on social media since, but one of his Genshin costars claims that Gindi been using burner accounts to silence accusers. Corina Boettger, the voice of Paimon, called out the alleged burner account on social media.
"Elliot is still messaging minors and threatening SH and blaming them using this burner account," Boettger wrote. "Everyone PLEASE STAY SAFE. Don't respond to him HE IS STILL TRYING TO MANIPULATE YOU. Block him! Please stay safe. You do not need to respond to him you owe him nothing!"
While Matty's initial document is no longer accessible, many of the allegations have been moved to the Arrest Elliot Gindi Wordpress page, which contains accounts from more than 20 alleged victims. The page also lists alleged burner accounts Gindi might use to continue manipulating fans.