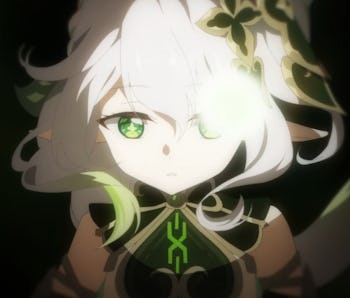 Inverse Codex
Everything we know about Genshin Impact 3.2 so far
The Genshin Impact anniversary eventually has to come to a close. Thankfully, its second year will start with a thrilling update starring fan-favorite villain Scaramouche in the next chapter of the Traveler's story. Even better, Nahida (a.k.a., Lesser Lord Kusanali) will finally join players' teams and show us if she's really worth calling "Dendro Klee." It's an action-packed update with plenty of combat challenges and two new characters worth checking out. Just don't spend all your Primos in one place.
Here's what we know so far about Genshin Impact 3.2.
When is the Genshin Impact version 3.2 release date?
Genshin Impact 3.2 will launch on November 2. Based on past updates, it will actually probably be around 10 p.m. ET on November 1 for those of us on the east coast.
HoYoverse published estimated release dates for Genshin Impact 3.0 to 3.3 in August:
Version 3.2 - expected to be updated on November 2, 2022
Version 3.3 - expected to be updated on December 7, 2022
What are the Genshin Impact version 3.2 character banners?
The following banners were confirmed during the Genshin Impact 3.2 livestream:
Part 1: Nahida and Yoimiya (5-stars)
Part 2: Yae Miko and Childe (5-stars), Layla (4-star)
Nahida debuted in Genshin Impact 3.0 as an NPC but will only become a playable character starting in Genshin Impact 3.2. She will be the second Dendro 5-star after Tighnari and the first child-sized Archon. Expect her to run side-by-side with Yoimiya in the Pyro archer's second rerun. Childe/Tartaglia and Yae Miko will re-run in the second half of the Genshin Impact 3.2 with the new 4-star Layla, a Cryo sword user who focuses on shielding and Cryo DMG homing projectiles.
Besides Layla, the accompanying 4-stars for upcoming banners have yet to be confirmed.
What new bosses are coming in Genshin Impact version 3.2?
Scaramouche will join his fellow harbingers Childe and Signora as a new weekly boss starting in Genshin Impact 3.2. He's one of the most complex bosses yet with his different phases and control of multiple elements. In the boss fight preview from the Genshin Impact 3.2 livestream, voice actors explain that he can perform feats like turning the floor into lava and shooting Cryo and Electro attacks from his arms. Players will also need the help of a robotic companion and nearby mechanisms (marked with Elemental symbols) to take down Scaramouche instead of just spamming attacks like you can in the Spiral Abyss.
Fun fact: His boss form looks suspiciously similar to Raiden Shogun's Magatsu Mitake Narukami no Mikoto with its purplish color scheme and robotic arms. His skills also seem to mirror her own, which would make sense because she's his creator.
The Dendro Hypostasis will also debut as a new boss during the upcoming Hypostasis Symphony: Dissonant Verse event. It isn't marked on the map yet but will likely appear in an already-existing location. Leaker GI Front posted that the Dendro cube would be located in the eastern portion of Sumeru's desert area. Players have also reported suspicious locations that look like perfect spawn points for the new Dendro boss.
What else is coming in the Genshin Impact version 3.2?
The Fabulous Fungi Frenzy is the headliner event for Genshin Impact 3.2. In it, players capture fungus monsters like Pokemon and train them to compete in battle competitions. These fun guys might be troublemakers in the wild, but the event's Wisdom Orb gadget bridges communication enough that the Traveler can befriend and give commands to them. There's also a portion of the event that features cooking "jellies" that the Traveler can give to their fungi to strengthen them. In the actual battle portion of the event, the fungi will act as your "player characters" to defeat other monsters and defend territories in the game's event modes.
Of course, Primogems, Mora, Mystic Enhancement Ores, and other valuable materials will be available as rewards. Dori, our resident traveling merchant, will also be available to recruit as a free character. If you didn't pull for her in Genshin Impact 3.0, now's the time to get her while she's free.
Other combat events include the Adventurer Trials with its co-op dungeons and the previously mentioned Hypostatic Symphony: Dissonant Verse. Casual events like the "Outside the Canvas, Inside the Lens," a picture-taking event similar to the photography portion of the Sumeru "Graven Innocence" event, will also run during Genshin Impact 3.2.
Want more?
Subscribe to Inverse Daily for more stories about games, science, and entertainment that you won't find anywhere else.
This article was originally published on