How to Collect Sith Holocrons in Fortnite by Completing Star Wars Quests
Players will need to complete 36 Star Wars quests over the next few weeks.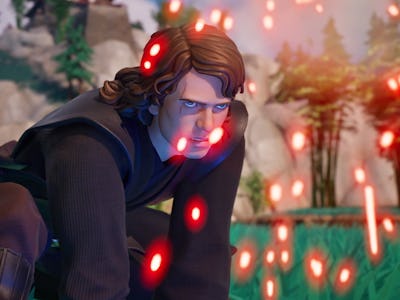 Epic Games
Fortnite is hosting yet another Star Wars crossover event just in time for May the Fourth, the annual holiday for all things in that beloved galaxy far, far away. This time around, players will have the chance to earn character skins for Darth Maul, Anakin Skywalker, Padmé Amidala, and a set of Clone Troopers. As part of the event, players also have access to a slew of new quests, and completing them yields special rewards. One of the bonus quests for collecting Sith Holocrons by completing quests has caused some confusion since the in-game descriptions aren't as detailed as you might've hoped — and because Sith Holocrons have been a bit different in past Fortnite crossovers. In this guide, we'll show you how to earn Sith Holocrons during the latest Fortnite Star Wars crossover event.
How to Collect Sith Holocrons
In looking at the new "Find the Force" Star Wars quests, you'll see a slew of different objectives, which will fall under three categories: The Force Within, Begun the Clone Wars Have, and Fall of the Republic.
As of May 2, 2023, there are 12 Force Within quests, but Epic Games will add two more sets over the course of the Star Wars event.
Below is a list of the current Force Within quests:
Land during Find the Force
Learn Force abilities at Rift Gates in different matches
Search a Republic chest
Hire a character
Damage an enemy player that is wielding a lightsaber or DC-15 Blaster
Destroy objects with Force abilities or a Star Wars weapon
Collect ammo at named locations
Launch Kinetic Ore with a Star Wars weapon
Travel distance on foot at night
Travel distance in vehicles
Survive Storm Phases
Travel distance while sprinting
In order to earn a Sith Holocron, you need to complete all 12 quests. You'll need to earn three Sith Holocrons to finish the bonus goal, which means you'll need to complete all the Find the Force quests over the course of the next three weeks. Check back on May 7 for the new set of quests.
Below are the start times for each quest set:
The Force Within: Available now
Begun the Clone Wars Have: May 7 at 9 a.m. Eastern.
Fall of the Republic: May 12 at 9 a.m. Eastern.
Sith Holocron Reward
If you complete all 36 quests and earn all three Sith Holocrons, you'll gain access to the Sith Infiltrator Glider.
The Star Wars event runs until May 23 at 9 a.m. Eastern, so you've got plenty of time to finish the quests.