Where to find Reality Seeds and plant Reality Saplings in Fortnite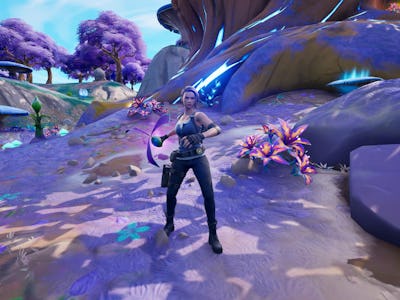 Epic Games
The newest season of Fortnite has begun, and as expected, it comes with a heap of fresh mechanics. One new feature during Chapter 3, Season 3: Vibin' is the ability to plant Reality Seeds, which turn into Saplings that eventually yield useful loot. As part of the Zero Week quests, players can collect Reality Seeds and plant three Saplings. Epic Games doesn't specify how this new mechanic works, where to find Reality Seeds, or how to plant them. Thankfully, this guide has everything you'll need to know about completing the latest quest as part of the new season.
Fortnite Reality Seed locations
The latest season of Fortnite features new map changes and one area that might catch your eye is the gorgeous Reality Falls. This hub is home to a massive tree with all sorts of wild colors, and is found on the western side of the island.
If you visit this new area, you'll come across several pink bulbs, which can be destroyed to collect Reality Seeds. There's a guaranteed bulb spawn on one of the massive roots sticking out of the ground, just above the small pond in this area.
Destroy the bulb and little Reality Seeds will burst out, floating all above you. When they land, collect them, and they'll appear in your inventory. Make sure you collect three of them so you can complete the quest quickly.
Fortnite Reality Saplings guide
Once you've collected a Reality Seed, you can throw it on the ground, sprouting a Reality Sapling. Before you throw it down, make sure you pay attention to the outline of the Sapling: Blue means it can be placed and red means it can't.
You can't place two Saplings too close to one another, so be sure to scout out the area to ensure you can safely plant your Seeds. With this area being tied to a challenge, you're bound to come across a lot of enemy players, especially at the beginning of the season.
Assuming you've planted all three Seeds, you'll earn credit for completing the challenge. If you only manage to plant one or two, don't worry: Your progress is cumulative, meaning you can come back and wrap up the rest of them in a separate match. Keep in mind, you can only have one Sapling available at any given time, meaning that each new one you plant will override the previous.
How do Fortnite Reality Saplings work?
Aside from completing a quest, you'll want to utilize Reality Saplings to kick off a match with an advantage. After you've planted a Seed, it will grow into a Sapling, and if you come back in a subsequent match, it will sprout fruit, yielding rare loot that will surely help you in the match. In the next match you play, you'll notice your Sapling will appear on the map.
Upon landing, pick the three weeds around the Sapling, and this will allow it to grow. Then, pick the fruit and you'll get rare loot. You can continue picking the weeds to increase the rarity all the way up to Mythic.
Keep in mind that there's a cooldown timer tied to each Sapling upgrade, which is around 11 hours or so. This means, it'll take a few days to reach the coveted Mythic rarity, but if you keep picking the Sapling weeds each day you play, you'll be able to reap the best rewards soon.