Fortnite Collision event is coming, here's what you need to know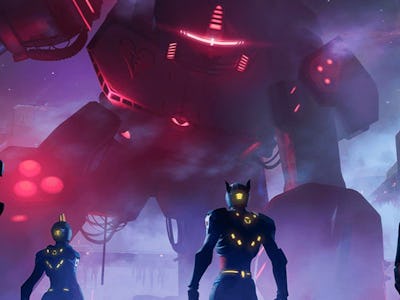 Epic Games
The second season of Fortnite Chapter 3 is nearing its conclusion, leading to a major in-game event known as Collision. This event will kick off Fortnite Season 3, which will supposedly feature prominent characters like Darth Vader and Indiana Jones. But when does the Collision event begin and what do we know about it? Here's what to expect from the upcoming event, including its release date, and features. It's shaping up to be an explosive conclusion to an already chaotic season.
When is the Fortnite Collision event release date and time?
The Fortnite Collision event begins across all platforms on Saturday, June 4, 2022, at 4 p.m. Eastern. You'll actually be able to dive into the playlist 30 minutes prior to give you plenty of time to "suit up," according to Epic Games. It's unclear how long the event will be available, but you can expect it to be playable for at least a couple of hours ahead of Chapter 3, Season 3's launch.
Players who log in on June 4 starting at 8 a.m. Eastern will be rewarded with an exclusive loading screen and lobby track, so be sure to jump in to receive your free goodies.
What is the Fortnite Collision event?
Epic Games refers to Collision as a "one-time, in-game event," meaning you have to log in at the aforementioned time to experience it, or you'll miss it for good. It's unknown what the event will entail, but we do know it will focus on the battle between the IO and The Seven, likely leading to an explosive ending during Collision.
Over the course of Season 2, the war between the two factions has gotten heated, with various map changes and battles playing out all over the island, culminating in a blowout during this upcoming event.
The only thing Epic Games has shown of Collision is a teaser featuring the fan-favorite Mecha Team Leader bear, which was last seen in 2019. The teaser also includes audio files alluding to an all-out war, so expect the event to be chaotic.
We've seen large-scale single events like this in the past, like Galactus' attack on the island or one of the many concerts. Once you miss your opportunity, you'll have to watch the experience on social media because it won't happen again.
Since Collision marks the end of the season, Epic Games reminds players to wrap up all Prowler Special Quests and advises players to finish gathering Omni Chips and Battle Stars.
What is the Fortnite Bargain Bin Week?
Beginning on Tuesday, May 31, 2022, at 9 a.m. Eastern Bargain Bin Week will commence in Fortnite, which offers discounts on Character services and Exotic item trades, since gold bars expire at the end of the season. With that in mind, be sure to spend all your bars before the season ends so they don't go to waste.