Here's Exactly When You Can Play Final Fantasy XVI
The legacy of the crystals.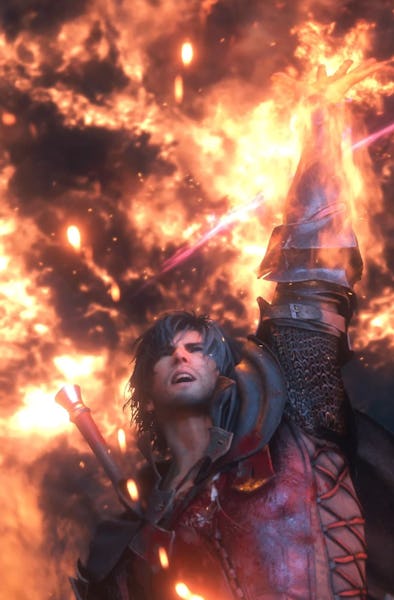 Square Enix
The next installment in Square Enix's iconic RPG franchise is just around the corner. Final Fantasy 16 has a lot riding on it, as the entry that hopes to revitalize global excitement for the series at a time when it is struggling. Mature themes, gorgeous graphics, and huge boss battles make it an exciting release.
With so much excitement around Final Fantasy 16, everybody will be wondering when they can actually start playing it! Here is everything you need to know about the launch of Final Fantasy 16.
Final Fantasy 16 Launch Time
Fans can finally play Final Fantasy 16 on June 22, 2023. For those in the U.S. The exact unlock time of digital versions of the game is as follows depending on your time zone.
9 p.m. PDT
10 p.m. MDT
11 p.m. UTC
12 p.m. EDT
Final Fantasy 16 File Size
The file size of Final Fantasy 16 is about as big as you might expect for this huge epic from Square Enix. The final size of the game has been confirmed to be 91 GB. So, get ready to clear out some older games on your PS5 to make room.
Final Fantasy 16 Pre-Load Time and Early Access
With the large amount of space Final Fantasy 16 is going to take up on your PS5 its a good thing those who have pre-ordered the game can download it ahead of the official launch time. Nobody wants to wait for the game to download when they could be playing it!
You can pre-load Final Fantasy 16 right now by going to your library on the PlayStation store and loading the game from the menu. It will then unlock at the official launch time.
As far as early access goes, there is no such luck for Final Fantasy 16 fans. The game has no early access, so everybody who buys the game (no matter what edition) will start playing at the same time. However, if you are incredibly eager, you can play the first couple of hours of Final Fantasy 16 via the game's demo. Your progress in the demo will carry over to the full game.
Final Fantasy 16 Pre-Order Bonuses
While Final Fantasy 16 does have three different editions (standard, deluxe, and collector's) each with its own goodies, the pre-order bonuses across all the editions are the same. For those who pre-ordered the game or purchase the game on day one. Here are the pre-order bonuses:
Braveheart - Bonus weapon
Cait Sith Charm — Increases the amount of Gil you can earn
Scholar's Spectacles — Increases the amount of experience points you gain (does not come with the physical deluxe or physical standard edition of FF16).