Everything we know about the Elder Scrolls Online: High Isle on console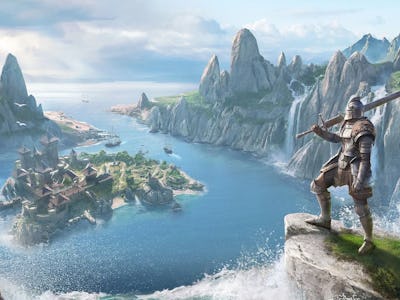 The Elder Scrolls is one of the richest fantasy worlds in video games, and numerous expansions for The Elder Scrolls Online have let players explore parts of the world that haven't appeared in the mainline games for years or even decades — like Summerset and Elsweyr.
The game's latest expansion takes place in a part of the world never seen before, the Breton homeland of High Isle. Here's everything you need to know about The Elder Scrolls Online: High Isle expansion, including when it releases on consoles.
When does High Isle release on PS4, PS5, and Xbox?
The Elder Scrolls Online: High Isle releases on Tuesday June 21, 2022 for PS4, PS5, Xbox One, and Xbox Series X|S. The expansion launches on June 6 for players on PC and Stadia. While The Elder Scrolls Online is free-to-play, High Isle will require a purchase in order to play, although you have a couple of options. You can purchase the ESO Collection for $59.99, which gives you access to everything including High Isle.
You can also pay a monthly fee to become an ESO Plus member, which gives you access to all new zones and DLC as well as a variety of other benefits, including free crowns every month and unlimited storage for crafting materials. ESO Plus subscriptions start at $14.99 a month, but the price goes down slightly if you buy multiple months at once.
What's new in Elder Scrolls Online: High Isle?
As with past DLCs, High Isle brings a host of new additions, the biggest of which is a brand new area to explore. The official website states, "While High Isle may look small on the map of Tamriel, it is actually a very large playable area, comparable to other zones from expansions."
There are a handful of little islands to explore on top of two main ones. The first is the titular High Isle, an affluent region filled with noble Breton families and cities. The second is Amenos, a jungle-like island dominated by pirates.
One of the focal points of the expansions is a new storyline called Legacy of the Bretons, which sees you taking on a mysterious organization called the Ascendant Order, which is threatening to derail peace talks trying to end the Three-Banners War.
High Isle features new world events called Volcanic Vents, locations that will periodically shoot out various daedra and monsters. You can receive loot for completing these events alongside other players. Another major addition is a collectible card game called Tales of Tributes, which you can play against both NPCs and other players.
Those are the major additions in High Isle, but here are some of the other new pieces of content you can expect.
Two new companions — A Khajit sorcerer named Ember, and a Breton knight named Isobel Veloise.
New 12-player trial — Dreasdail Reef
New item sets
New mythic items
New side quests
Head to the official Elder Scrolls Online site for even more information on High Isle.