EA's Black Panther Game Is a Massive Opportunity
A chance to highlight Black developers.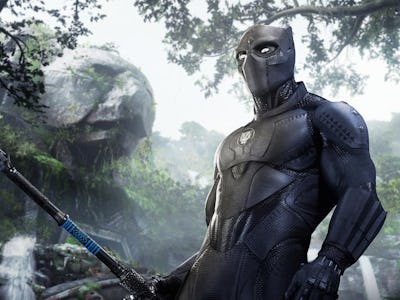 Square Enix
Publisher Electronic Arts is working on a new Marvel game based on Black Panther. The project is very early in development and will come from a new team at Cliffhanger Games (in collaboration with Marvel Games). While the announcement is an exciting one for all Marvel fans, it remains to be seen if Black devs will have senior creative roles on the project.
The video game industry is notorious for mostly employing white men, and while this has improved in recent years, there's still a long way to go. The unnamed Black Panther project is an opportunity for EA to push the industry in the right direction by getting Black developers to work on it.
We know the untitled Black Panther game will be a single-player, third-person game with an "expansive and reactive world." Cliffhanger has already assembled a team with credits on Middle-earth: Shadow of Mordor, Halo Infinite, God of War, and Call of Duty.
Some in the community are a bit cynical about the project. For instance, Bloomberg reporter Jason Schreier wrote "So excited to reveal the development team behind Black Panther" on Twitter, accompanied by an oft-memed image of several similar-looking white men at a sports event.
Schreier deleted his tweet shortly thereafter, but the sentiment behind it is shared by many.
Others are more optimistic about the project. For instance, Thirsty Suitors Director Chandana Ekanayake called the Black Panther game a "real opportunity for Black culture and Black devs."
"Do it right, EA," Ekanayake added.
Ubisoft Editorial Communications Manager Youssef Maguid agrees that Electronic Arts needs to highlight Black developers with its upcoming game.
"A Black Panther game should have Black developers in senior leadership positions," Maguid said on Twitter, linking to current job openings at Cliffhanger Games.
It's unclear when this game will release, as EA has only shown a logo alongside its reveal. Announcing games far too early is a common occurrence in the video game industry, but there may be a reason, in this case. Maguid points out that EA might've announced this game early to "help with recruiting."
We've seen just how effective a diverse cast and dev studio can be. Marvel's Spider-Man: Miles Morales received tremendous praise for its authentic portrayal of Black and Hispanic cultures, thanks to its developers and actors. There are several moments in which Miles and his mother Rio are bickering back and forth in Spanglish and it feels so believable, it's tough to imagine it working as well with only White actors and developers in charge.
Because of how well Marvel Games handled Miles Morales, I'm optimistic about Black Panther. And it seems like Cliffhanger Games and Electronic Arts might already be planning to hire a diverse team to lead development.
"We're dedicated to delivering fans a definitive and authentic Black Panther experience," Cliffhanger studio head Kevin Stephens said. "It's an incredibly rare opportunity to build a new team around the values of diversity, collaboration, and empowerment." Fingers crossed they do right by this character — and his many fans around the world.
The Black Panther project is in development.