Anthony Mackie Levels Up
The star of Peacock's Twisted Metal opens up on Captain America 4, the threat of a Hollywood actors' strike, and vehicular mayhem.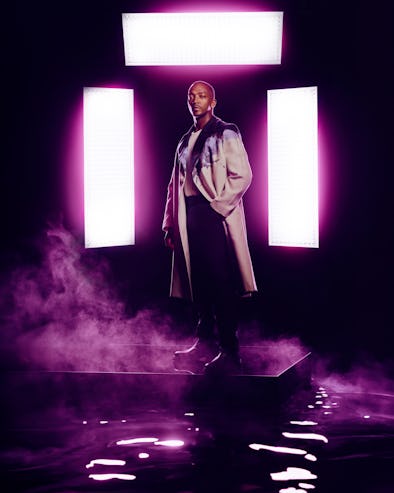 Anthony Mackie doesn't play video games. He lives them. Case in point: a cinematic car crash in late May that left him unscratched but laid waste to his ride.
"Driving in Atlanta is the best video game you've ever played in your life," Mackie tells me two weeks later, settling in for tacos and margaritas on a sunny afternoon. "It's literally Twisted Metal."
We'll get to his upcoming Peacock adaptation of the beloved '90s vehicular combat video games soon, along with his starring role in Marvel's Captain America 4, which is what brings him to Atlanta. (Our 90-minute lunch is sandwiched in between a day of "mo-cap and green screen sh*t" and an afternoon spent memorizing scripts.) But first, the car crash.
"I just got off of work," the 44-year-old actor says, setting the scene. "I got something to eat and was driving home. I was smoking a cigar. I was driving slow. I was enjoying life, listening to Whitney Houston. It was a great evening."
"It was the craziest sequence of events I've ever experienced."
Then, another car came up behind him at what Mackie thinks was easily 100 miles per hour. He moved into the middle lane so the other driver could pass by, but she lost control and made contact. Then, she overcorrected, veering to the right and spinning into the guard rail. "The front of her car just implodes. Boom." The impact separated her front axle and two tires from the rest of the vehicle and sent them straight into the middle lane. Right in front of Mackie. He looked to the left, saw a car approaching in the merge lane, and made his decision with superhuman speed: He drove straight into the axle.
"The car went over the axle and hit the tire, and the axle picked me up and just launched me into the air," Mackie says. He's laughing as he tells this story, but the laughter is tinged with relief. "So I'm flying. I'm high enough to where I can look down on her car."
When his car finally landed, the hood popped off and flew over his head. "It was the craziest sequence of events I've ever experienced."
It's only been a few weeks since the accident, but Mackie excitedly recounts the story like it's a funny clip he saw on YouTube (and not an actual, near-death experience) as we grapple with QR codes at an outdoor table on a bustling Atlanta city block. I won't name the location to avoid blowing up his spot, because it's a crucial part of Mackie's day-off routine. "This is my favorite restaurant," he says. "My wine bar is next door. My gym is next door to that. My cigar bar is next door to that. My favorite dinner restaurant is next door to that. On Sunday, I'll start here and just make my way up the block."
Mackie splits his time between Atlanta (for work) and New Orleans (where he's from, and where his four sons live with their mother). He tried to open a franchise of his beloved Atlanta Mexican restaurant in New Orleans, but the owners weren't interested. The actor owns a bar with some friends in Beverly Hills and used to have two more in New York. And then there's the "flagship" of the operation.
"I have a gay bar in New Orleans that is the crown jewel of gay bars," Mackie says. "My brother and his husband were like, 'We need a place to party.' I'm like, 'Let's open a f*cking place to party.'"
But his wildest ambition in the world of bars and restaurants remains unfulfilled, for now.
"I wanted to open a restaurant called Fusion Confusion," he continues. It's inspired by some of his own recipes. He tells me about his soul food tacos: New Orleans-style stewed beef neck bones with potatoes, vegetables, and a little gravy in a taco shell. There's also "Ethiopian tacos" and "soul food sushi."
"Every time I make that, it f*cks people up."
F*cking people up also happens to be the objective of Twisted Metal. If you didn't grow up playing video games in the late '90s, know that the series is an almost plotless demolition derby where the goal is to murder your opponents.
For Mackie, an "old-school gamer" who checked out after Frogger, Donkey Kong, and Super Mario, the opportunity to serve as an executive producer of the series was a bigger draw than its source material. Mackie says he helped shape the protagonist, John Doe, a fast-talking amnesiac "Milkman" who transports packages between fortified cities and across a post-apocalyptic hellscape. "Once I came on, they kind of tailored it to my sense of humor," he says. "I'm very wacky and dark. That influenced John Doe a lot."
The show offers "a side of Anthony that's a little bit more light and fun and smart-assy," Jason Spire, Mackie's manager of 23 years and a producer on Twisted Metal, tells Inverse. "He is very well known for his dramatic work, but he's rarely singled out for his humor. I think that's where people are going to be really surprised and impressed."
"I'm very wacky and dark."
A minor character in the original games, Mackie's John Doe guides audiences through Twisted Metal's gonzo world of marauders and cannibals, the undeniable mascot of which is Sweet Tooth. He's a serial-killer clown who drives an ice cream truck. (In the game, a tower of fire perpetually rises from the top of his head.) Will Arnett voices the role, though Mackie filmed his scenes with professional wrestler Samoa Joe (real name Nuufolau Joel Seanoa), who provides the physical performance. "The sh*t [Samoa Joe] was doing, it was mind-blowing how good he was, not being an actor and knowing he was going to be voiced over," Mackie says. "He went 100 percent with this sh*t."
"Obviously, this is a very new genre of entertainment for me," Seanoa tells Inverse. "Anthony couldn't have made it any smoother of a transition. He was on set all the time offering whatever advice he could. If I was reading to camera, he'd be the guy offscreen reading back to me. He wanted to make everybody comfortable, from the actors to the crew. He's just one of them types of cats that does the extra little things."
Killer clowns aside, Mackie thinks Twisted Metal is coming at exactly the right time, due to its not-so-subtle political message about a world where the lucky few live in utopian mega-cities while everyone else scrounges to survive in the wilderness.
"We're slowly becoming the haves and the have-nots in real life," he says. "We're living in these gated communities, in these unaffordable neighborhoods. Really, it's becoming a class war in real life. That's what this show points a finger at."
***
Anthony Mackie thought he was the Black Panther.
Before he was cast as Sam Wilson (aka Falcon) in Captain America: The Winter Soldier, Mackie was already a rising star. One of his first jobs after graduating from Juilliard in 2001 was as Don Cheadle's understudy in a 2002 off-Broadway play. The same year, he played the main antagonist in 8 Mile, and went on to work with directors Spike Lee (She Hate Me, 2004) and Kathryn Bigelow (The Hurt Locker, 2008). He delighted in Real Steel, the beloved 2011 Hugh Jackman sci-fi drama about boxing robots. (On that note, Mackie says he calls director Shawn Levy once or twice a year to push for the long-overdue sequel: "It was supposed to be a trilogy. It was supposed to be three or four movies together.") Then, in the early 2010s, Mackie set his sights on Marvel.
"I had been contacting Marvel a lot about Black Panther," he says. "I had written them letters. I was trying to find a way to make them make Black Panther. And I wanted to be Black Panther because growing up I f*cking loved Black Panther."
Finally, he got his shot. The studio called his manager and set up a meeting between Mackie, longtime Marvel producer Nate Moore, and Joe and Anthony Russo (the director duo behind two Captain America movies and two Avengers movies, but notably not Black Panther).
The meeting was exactly what you might expect from the ultra-secretive Marvel Cinematic Universe. The foursome met at a stereotypical Los Angeles hotel and sat outside by a swimming pool. It was "hot as f*ck" and "some random lady" was tanning in the corner. After some small talk, Mackie received the cryptic words that would change the course of his career.
"I'll never forget, Joe Russo said, 'Listen, so we're doing this movie. We want you to be in it. We can't say what character you're playing or who else is going to be in it. Would you do it?' And that was it." Mackie kept his cool. "I was like, 'You know what, I like y'all dudes. I'll do it. I'll go on this ride with you.'"
It wasn't until a few weeks later that Mackie learned he wasn't playing Prince T'Challa. At the time, he figured that Black Panther was the only option for a major Black role in a Marvel movie. He definitely didn't think he'd wind up as Captain America's sidekick, let alone eventually take the star-spangled shield for himself.
"What other major comic book figure has enough of a presence to have his own movie? So when they hit me up and they were like, 'Yo, so it's Sam Wilson,' I'm like, 'Really?'"
The rest is superhero movie history. Mackie got the breakout role in Marvel's Captain America sequel, a conspiracy-fueled political thriller still considered to be the peak of MCU filmmaking by many. Plus four more movies after that, and then The Falcon and The Winter Soldier, a spin-off Disney+ show across from longtime co-star Sebastian Stan. Now, he's got the lead role in Captain America: Brave New World, formerly known as Captain America: New World Order. I ask Mackie about the recent title change, but he claims ignorance: "I have no idea. They were like, 'We're changing the title.' I was like, 'All right, let's do it.' So that was it."
The fourth Captain America movie (currently slated for July 26, 2024) is a huge deal for Marvel. Not only does it mark the return of a beloved subfranchise, but it's the first time the studio will pass the torch from one of its original Avengers cast to a new actor in a major motion picture. This might be the fourth Captain America movie, but it's the first Anthony Mackie/Sam Wilson movie, following a Chris Evans/Steve Rogers trilogy. If it works, Marvel could apply the same approach to other uber-recognizable characters like Iron Man and Thor.
"There's a huge amount of pressure," Mackie says. "You throw my dumb ass in the water, and you're like, 'Swim.' I'm like, 'Sh*t.' But at the same time, it's all in the state of mind. I've been given a great cast. I've been given a great group of people who I've worked with before."
Mackie's Sam Wilson lacks one element that defines Captain America: superpowers. Without any unnatural strength or agility, Wilson will have to rely on brains more than brawn (along with his jet-powered glider wings and vibranium shield).
"It's more so about his ability to connect and counsel," Mackie says of his Captain America. "He's not as rash to bear arms as Steve Rogers was. Having a super serum makes you impossible to beat, so your answer to everything is to fight it out. Whereas Sam Wilson can actually die pretty easily."
"All the flying, CGI, and all that sh*t. That's going to happen."
Mackie points to Sam Wilson's history as an ex-Air Force pilot who helps other veterans as his defining trait. "He definitely has the ability to, not manipulate, but understand someone's shortcomings. Give them words of encouragement so that they're not forced to action. The physical aspect of it is the last resort."
Falcon and the Winter Soldier ends with Sam Wilson thwarting a terrorist attack against a shady political organization, then turning his focus to the politicians, admonishing them to wake up and "do better." It's more urgent and more impassioned than the high-minded, inspirational oration that Chris Evans' Steve Rogers tended to deliver at the climax of each Captain America or Avengers movie.
"He realized that his ability is not to change the world with force; it's about giving people the wherewithal and the recognition that they deserve so that they can make a change," Mackie says. "I can go around and beat up people all day; it won't matter. Those people are going to come right back and do the same sh*t."
"[Brave New World] picks up pretty much right after that," he adds, "with Sam back in the fold of, How do I fit into this superhero world?"
One person who's definitely not worried? Chris Evans. When I ask via email what makes Mackie special, he comes through in true Captain America fashion: "His energy and his versatility. Both as a person and as an actor," Evans tells Inverse. "I've never seen him tired, and there's nothing he can't do. He's a true Renaissance man."
The Captain America: Brave New World movie makes a few other major changes. For one, there's a new director in Julius Onah (stepping in for the Russo brothers, who have not had a new Marvel project announced since Avengers: Endgame). Mackie says they have a common understanding — "We agree on a lot of sh*t with the world around us" — and praises the director's grasp on character and story. As for the action, he's not worried.
"All the flying, CGI, and all that sh*t. That's going to happen."
And then there's Harrison Ford, stepping in as Thunderbolt Ross (a longtime Captain America frenemy) after original actor William Hurt died in 2022. For Mackie, working across from Ford is a full-circle moment. The two appeared together in Hollywood Homicide (a mostly forgotten 2003 action-comedy) where Mackie had a bit role. Now, he's the star. Not that that made it any easier.
"The first day was so intimidating," Mackie says. "I was so f*cking nervous I couldn't remember my lines. He's Harrison f*cking Ford. There is this aura about him. But he dispels that really quickly because he's such a cool guy. He's everything a movie star should be. He would say, 'Let's shoot this piece of sh*t.' And everybody was like, 'Yeah, let's shoot this sh*t.'" Mackie can't go into specifics about his scenes with Ford, but he notes that there are plenty of them. "We spent a good bit of time together. Ross and Cap have always had that relationship, where they were friends and they respected each other, but they always bumped heads. That's their relationship in the storyline."
"I don't know. I don't even know what the multiverse is. Dude, I have no idea what it is."
If Mackie gets another Marvel movie after this one, he hopes he can find a way to reunite with his old co-stars Chris Evans and Sebastian Stan. "I would like for the three of us to get in a situation with [Chris] Hemsworth. I think the four of us would literally cause so much havoc." As for what lies beyond in Marvel's multiverse, Mackie is as clueless as the rest of us. Or at least, he claims to be. "I'm still trying to figure out the Marvel-verse, or whatever," he says, referencing the multiverse concept that's become the driving force in superhero stories both for Marvel and its competitors. "I don't know. I don't even know what the multiverse is. Dude, I have no idea what it is. I'm still trying to figure that sh*t out."
When I ask about the fate of multiverse uber baddie Kang the Conqueror, who has been played by Jonathan Majors — but whose future seems uncertain following allegations of abuse that have cost the actor other roles — Mackie is circumspect.
"We're a country that was built on 'everyone is innocent until proven guilty,'" he says. "That's one of the staples of this country. Nothing has been proven about this dude. Nothing. So everyone is innocent until proven guilty. That's all I can say. It's crazy where we are as a society. But as a country, everyone is innocent until proven guilty."
***
At the time of our interview, Hollywood writers have been on strike for 30 days, and the Screen Actors Guild is thinking about joining them. The future of the industry feels tenuous, and Mackie gets fired up talking about it.
"Once the studios went public and were bought out by major companies, we were f*cked," he says. "It's no longer about art. It's no longer about interesting, fun work. It's about end-of-the-quarter profit sharing. It's about shareholders. So you're literally just raping and pillaging the industry. It's cannibalism."
Weighing the possibility of an actors' strike, Mackie isn't sure what to expect, but one thing is clear: "It's a sh*t show if we go on strike." The only way forward, he adds, is for the studios to come to the bargaining table with a fair deal. "They're going to have to. Unless they get a bunch of f*cking YouTubers to make Avengers 5!"
Mackie's position, at the helm of a too-big-to-fail Marvel endeavor, feels future-proof. But he's invested in smaller forms of storytelling, too. Just before Covid hit, Mackie was at the National Civil Rights Museum in Memphis, Tennessee, when he saw a small plaque dedicated to Claudette Colvin, an unsung hero of the Civil Rights Movement. In 1955, Colvin, then a 15-year-old Black girl, refused to give up her seat on a segregated bus. The case went to the Supreme Court, but Civil Rights leaders (including Rosa Parks) downplayed the story because Colvin was pregnant and unmarried. Later that year, Rosa Parks sparked the historic Montgomery bus boycott herself after she also refused to give up her seat.
"I had heard the story," Mackie says, "but it kicked it back in my face in a way to where every now and then I have these moments of like 'Remember where you come from. Don't get caught up in the Hollywood sh*t.'"
The result is Spark, an upcoming biopic set to be Mackie's directorial debut, but delays caused by everything from Covid-19 to the writers' strike to Mackie's own busy schedule have complicated production. Colvin is currently 83 years old, and Mackie wants to make sure she gets to see her own movie. If that means letting something else step in to direct, he says he's OK with that. "I don't want to be selfish about her story."
Mackie sees Spark as a chance to help address the ongoing shortage of roles deserving of young Black talent. "Harry Potter had no f*cking Black friends," Mackie says. "Frodo walked across the entire universe and never met a Black dude. I want to see Frodo in the hood, which if I ever do Saturday Night Live is going to be a skit I'm going to do."
"Frodo walked across the entire universe and never met a Black dude. I want to see Frodo in the hood."
When Mackie lets rip on his feelings about producers ("I've never met a fair producer in my life. Ever. No."), it's clear the actor has achieved his goal of not getting caught up in the Hollywood sh*t. He's crawled headfirst into the Marvel machine without letting it consume him, and while he's about the furthest you can get from cynical about the franchise that made his career, he's not afraid to bite the Infinity Gauntlet that feeds him.
"He doesn't play the game," manager Jason Spire says, "and yet he is an active participant with a pretty well-rounded career."
For a guy who refuses to play Hollywood politics, Mackie's achieved an impressive level of success, with seemingly nowhere to go but up and up. Maybe that's thanks to his unbridled enthusiasm for everything from boxing robots to the perfect margarita. Or maybe it's his clear-eyed perspective on an industry that's changing more rapidly than ever.
But there's something purer radiating out from under the surface, and when I get Mackie talking about the art of acting itself, his passion outshines any cynicism about the industry and the people who run it.
"Our job is always to get back to our childhood," he says, "when we could pick up a stick and say, 'Yo, this is a sword. I'm fighting a dragon.' It's all make-believe, but when you say it, and when you're in it, you have to believe it."
Top image credits: Fendi coat, Sunspel T-shirt, Brooks Brothers pants, Gianvito Rossi boots
Photographs by AB+DM
Styling by EJ Briones
Set Designer: Risha Carnes
Hair: Tarik Mallett
Grooming: Danielle Mitchell
Talent Bookings: Special Projects
Video: Rey Miranda
Associate Creative Director, Video: Samuel Schultz
Photo Director: Alex Pollack
Editor in Chief: Tyghe Trimble
SVP Fashion: Tiffany Reid
SVP Creative: Karen Hibbert