Twisted Metal Teaser Trailer: A Killer Clown, Anthony Mackie, and A Surprising Twist
The Peacock series turns a smash-em-up video game into a funny and violent road trip.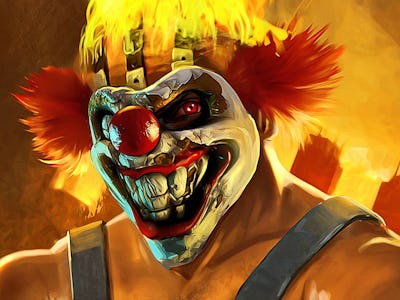 Sony
Anthony Mackie has gone from Falcon to Captain America, but he's not stopping there. He's also starring as John Doe in Peacock's upcoming action comedy series Twisted Metal, based on the demolition derby game franchise of the same name. It may have been over a decade since the last game hit shelves, but that won't stop the oncoming tide of game adaptations from turning the PlayStation's silliest car battler into a TV show.
In the teaser trailer, we get our first glimpse of John Doe, as well as the series' most notable character, Sweet Tooth the Killer Clown. Take a look below.
It's clear this isn't trying to be the same type of adaptation as The Last of Us. It's lighthearted, full of Mad Max-ian action, and aware of its own legacy in the gaming world.
But it's also aware that it's a television series now, and that it can't all be demolition derby rampage. There has to be at least some story, and showrunner Michael Jonathan Smith promises a big one. As he said in a statement:
"You will cheer for our charismatic hero John Doe, played by Anthony Mackie, as he drives across the Divided States of America in search of a place to belong. You'll laugh as an enigmatic woman named Quiet, played by Stephanie Beatriz, throws John's world for a loop after a chance encounter, forcing the two together and changing both their lives for the better. You will root for our heroes to take down psychotic highway patrolman Agent Stone, played by Thomas Haden Church, who sees the world in black and blue. And you'll discover a surprising soulfulness to our deranged, murderous clown Sweet Tooth, voiced by Will Arnett and performed by Joe Seanoa aka wrestler Samoa Joe."
Psychotic cops and soulful clowns? Sign us up. It's a stacked cast, and it doesn't stop there. The guest star roster includes names like Scream's Neve Campbell as Raven and Tahj Vaughans and Mike Mitchell as Mike and Stu, the Rosencrantz and Guildenstern of this post-apocalyptic world.
It looks like Twisted Metal will use its source material as a launching point to tell a bonkers, action-packed post-apocalyptic story that doesn't take itself too seriously. What could be better for whiling away those long summer nights?
All 10 episodes of Twisted Metal premiere on Peacock Thursday, July 27, 2023.