Here's Exactly When You Can Start Playing Baldur's Gate 3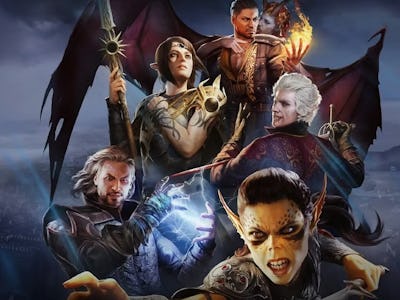 Larian Studios
Fans have been waiting over two decades to return to the world of Baldur's Gate, the most ambitious Dungeons & Dragons adaption gaming has ever seen. A new vision of the series is just around the corner with Baldur's Gate 3, developed by the studio behind Divinity: Original Sin, Larian.
The third game promises to be a massive role-playing experience that spans well over 100 hours and multiple playthroughs, so you'll likely want to jump in as soon as possible. Here's everything you need to know about Baldur's Gate 3's launch time, file size, and more.
When Is the Baldur's Gate 3 Release Time?
Baldur's Gate 3 officially launches for PC on August 3, but as you can see in the image above the time will depend on where you live. Here's how the times break down.
US West: 8 am PT (August 3)
US East: 11 am ET (August 3)
Rio De Janeiro: 12 pm BRT (August 3)
London: 4 pm BST (August 3)
Berlin: 5 pm CEST (August 3)
Kuala Lumpur: 11 pm MYT (August 3)
Tokyo: 12 am JST (August 4)
Syndey: 1 am AEST (August 4)
Auckland: 3 am NZST (August 4)
Of course, this is just for the PC version, and the PS5 version of Baldur's Gate 3 will launch roughly a month later on September 6. However, anyone that purchases the digital-only Deluxe Edition or the Collector's Edition, will receive 72-hour Early Access starting on September 3. The Deluxe Edition costs $79.99 and includes some other goodies, including the Divinity Bard Song Pack, Exclusive Dice Theme, Treasures from Rivellon Pack, and Adventurer's Pouch.
Baldur's Gate 3 is planned for release on Xbox Series X|S, but the studio has said it likely won't be until 2024. This is apparently due to a policy Microsoft has that the X and S versions have the exact same gameplay features. Larian has had some difficulty getting seamless drop-in drop-out co-op working on Xbox Series S but hopes to have an update by the end of the year.
Baldur's Gate 3 File Size and Pre-Load
Baldur's Gate 3 will take up a whopping 122GB on your hard drive, and unfortunately, Larian has confirmed there won't be any preload options. This means you won't be able to start downloading the game's files until it's officially released at the times above.
At the moment, Larian hasn't confirmed the file size for PS5, or if that version will have any pre-load options.
Will Early Access Saves Work With Baldur's Gate 3?
Baldur's Gate 3 has been in Early Access for nearly three years, and unfortunately, Larian has confirmed Early Access saves will not be compatible with the final version. On top of that, the studio has actually recommended players make sure to delete any Early Access saves before launching the final game, in order to avoid any conflicts.
Apparently, the studio feels that the changes in the final version are substantial enough that players are better off just starting a fresh save.
Baldur's Gate 3 launches on August 3 for PC, and September 6 for PS5.