Could a Dungeons & Dragons Sequel Introduce One of Its Most Famous Characters?
With a sequel on the horizon, it may be time to bring a popular character to live-action.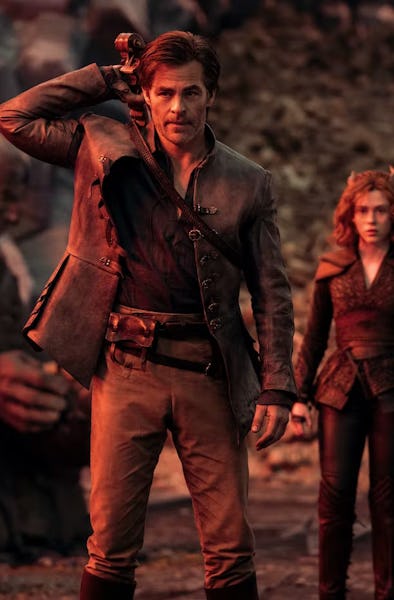 Paramount Pictures
John Francis Daley and Jonathan Goldstein weren't looking to make a franchise with Dungeons & Dragons: Honor Among Thieves.
"It was never our intention when we came on board this film," Daley told Polygon ahead of the film's premiere. Regardless, a franchise feels like a sure thing at this point: Honor Among Thieves has been charming its way to critical and commercial success since it hit theaters on March 31. And with such a sprawling catalog of lore to pull from, there's no reason for that success to rest on one film. The possibilities are truly endless for a Dungeons & Dragons cinematic universe — Paramount already has a live-action series in the works — so more films could very well be coming down the pipeline.
Daley and Goldstein are certainly open to the idea of a sequel, especially now that the foundation's been laid in Honor Among Thieves. "The good thing about a sequel is ... you can jump into the plot more quickly," Goldstein told Polygon. "Obviously, we have great affection for both the actors and these roles that they play. But we'd want to introduce some new figures along the way, and certainly a lot of new monsters."
One figure in particular already has a huge demand from the D&D fanbase: a elven ranger by the name of Drizzt Do'Urden. Drizzt may be the most popular character in the Dungeons & Dragons lore: After a supporting appearance in the tie-in novel The Crystal Shard, he quickly became the center of a long-running series written by R.A. Salvatore. His influence has touched every corner of the franchise, from the tabletop game to video games and even webtoons. Unsurprisingly, fans have been waiting for his live-action debut in kind, to the point where Daley and Goldstein actually considered introducing him in Honor Among Thieves.
"The general consensus was to not go there yet," Daley admitted. "That said, he's definitely a popular character in the world, and one who could be exciting to explore."
The 2023 film certainly laid the groundwork for a Drizzt appearance in the future. Honor Among Thieves takes place primarily in the Forgotten Realms, one of the most popular settings for Dungeons & Dragons campaigns. It's also Drizzt's domain. A significant portion of the story takes place in The Underdark, where Drizzt was born, and where his people, the Drow, reside. The Underdark is a sprawling underground network, not unlike The Lord of the Rings locale Khazad-dûm. It's home to countless civilizations, each with their own culture and their own tricky politics — and with Honor Among Thieves now in the rear view, Daley and Goldstein may very well choose to explore a bit of that in a sequel, using Drizzt as a point of access.
The thing about Drizzt — and about Dungeons & Dragons lore on the whole — is that there's way too much to cover in the span of just one film. Drizzt may appear in a future sequel, maybe in a similar manner that Regé-Jean Page's paladin, Xenk, did in Honor Among Thieves. But would that be enough to satisfy fans that have been waiting for his live-action debut? Drizzt has led 30 years' worth of adventures, so it makes sense that Daley and Goldstein would hesitate to bring him into the fold. It'd be great to see how a new figure affects the dynamic established in Honor Among Thieves, but the conditions will have to be right.