Everything We Know About Assassin's Creed Mirage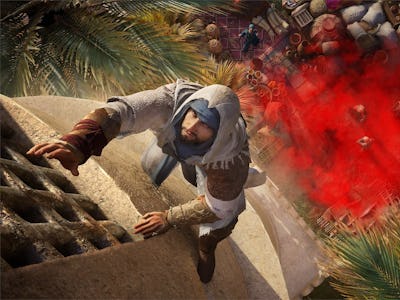 Ubisoft
After taking a few years off, the critically acclaimed Assassin's Creed series will return this year. But don't expect this year's entry, Assassin's Creed Mirage, to be on the same scale as recent installments. Mirage aims to bring the series back to its roots, offering a more condensed open world and less of a focus on RPG systems.
Set in 9th-century Baghdad, Mirage will lean into the series' stealth and parkour traversal mechanics. Below, we'll cover everything we know about Mirage, including its release date, gameplay details, and information about pre-orders.
Assassin's Creed Mirage Release Date
Assassin's Creed Mirage was initially planned to launch on October 12, but was actually moved up a week to October 5, 2023. This date is in line with past entries in the series, as almost all have launched in October or November.
Assassin's Creed Mirage Trailer
There are several trailers, with some focusing on cinematics, while others lean into gameplay. The world premiere trailer doesn't necessarily show the game in action, but there are plenty of other trailers that depict what the moment-to-moment Mirage experience will be like.
Assassin's Creed Mirage Platforms
You can expect to play Assassin's Creed Mirage on PS4, PS5, Xbox One, Xbox Series X|S, and PC when it launches later this year. Ubisoft has a history of supporting past-gen consoles for a while, and its biggest game of the fall is no exception.
Assassin's Creed Mirage Gameplay
While Mirage will likely feel a lot like the rest of the games in the series, it will mirror the earlier installments more closely. This means it'll have a smaller open world, closer to Unity in terms of size. Likewise, Mirage will reduce the number of RPG elements in favor of stealth mechanics, much like the first few installments.
Speaking of which, Mirage will include a new feature called Assassin Focus, which slows down time, allowing the player to take out multiple enemies at once. The game also introduces more freedom during stealth sections, encouraging players to experiment with different ways to take down targets. This is noticeably different from recent entries, which are decidedly more combat-focused.
Another notable difference is that Mirage will be considerably shorter than Origins, Odyssey, and Valhalla — all of which provided around a hundred hours' worth of content. Mirage, on the other hand, will only be around 20 to 30 hours long.
Assassin's Creed Mirage Story
In Mirage, you'll take on the role of Basim (who actually appeared in Valhalla) in 9th-century Baghdad. Basim is a thief who must learn to become the Hidden One, while discovering himself along the way. It's referred to as a coming-of-age story, which seems refreshing compared to the complex plots of recent games. Once again, the straightforward narrative is closer to the first few entries in the series.
Assassin's Creed Mirage Pre-Order Details
You can pre-order Assassin's Creed Mirage now across all platforms. Doing so gives players access to The Forty Thieves bonus quest at no additional charge. In addition, there are a few different versions you can pre-order, each with various bonuses.
Standard Edition ($50)
Copy of Assassin's Creed Mirage
Pre-order bonus
Deluxe Edition ($60)
Copy of Assassin's Creed Mirage
Deluxe Pack: Prince of Persia-inspired outfit, eagle and mount skins, weapons, and more
Digital Collectibles: Digital Artbook and soundtrack
Pre-order bonus
Collector's Edition ($150)
A high-quality figurine of Basim (32cm)
A replica of Basim's brooch
An exclusive Steelbook with design to be elected by fans
The Art of Assassin's Creed Mirage mini-artbook
A Baghdad Map
A Selected Soundtrack of the game
Assassin's Creed Mirage Deluxe Edition
Assassin's Creed Mirage launches on October 5 for PlayStation, Xbox, and PC.
This article was originally published on