Everything we know about Maggie, Apex Legends Season 12's new rebel
Maggie's back, and she's still really mad.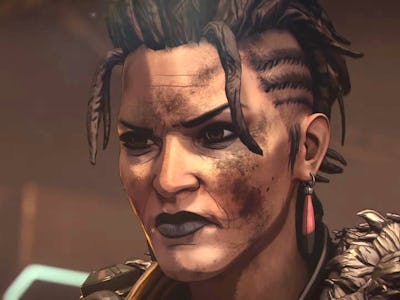 Respawn Entertainment/EA
Mad Maggie has been revealed as the latest character to be added to the Apex Legends roster. Unlike most new contenders making their way to the Apex Games, however, Maggie is a face we've seen before via Fuse's lore and major in-game events. Curious about how she'll add to the game as a playable character? Here's what you need to know about her abilities, story, voice actor, and more.
Who is Mad Maggie in Apex Legends Season 12?
Just like Fuse, who was the featured character in Apex Legends Season 8, Maggie hails from the war-torn planet of Salvo. She was formerly Fuse's partner in crime, but things went south when her home planet was added to the ranks of Syndicate Space. Feeling her homeland had sold out to a corporate entity, she became enraged when Fuse decided to represent Salvo in the Apex Games. In a fit of rage, she threw Fuse's cherished golden grenade at him, and the blast blew off Fuse's arm.
In her Stories from the Outlands trailer, called "Judgment," Maggie is captured and is sentenced for her crimes. After perpetrating a deadly attack during Salvo's induction ceremony, she incited riots throughout her home planet. Much to the chagrin of the sentencing judge, however, a mysterious cloaked man named Mr. Silva decrees she must join Fuse as a fighter in the Apex Games instead of facing execution.
What are Mad Maggie's abilities in Apex Legends?
after much deliberation, Maggie's abilities were officially unveiled alongside the Season 12 gameplay trailer on January 31.
Riot Drill [Tactical Ability]: Fire a drill that burns enemies through obstacles.
Warlord's Ire [Passive Ability]: temporarily highlight enemies you've damaged and move faster with a shotgun.
Wrecking Ball [Ultimate Ability]: Throw a ball that releases speed boosting pads and detonates near enemies.
Taking a look at the launch trailer from January 27, we get a chance to see two of Maggie's abilities in action. In this first image, Maggie fires the Riot Drill to briefly blind her opponents.
We also see the Wrecking Ball described above. In a lot of ways, it seems Maggie's confirmed abilities combine most of the previously leaked elements together. She'll be able to use specialized projectiles that briefly blind other players and can take advantage of various speed boosts.
Who is Mad Maggie's voice actor in Apex Legends?
Maggie is voiced by Nicola Kawana. She's perhaps best known for playing Judge Judy in Find Me a Maori Bride and Lollie in The Man Who Lost His Head. Kawana's acting credits stretch back to 1998, and she's fairly new to video game voice acting.
This article was originally published on