Alan Wake 2 Release Date Time, File Size, and Pre-Order Bonuses for the Horror Game Sequel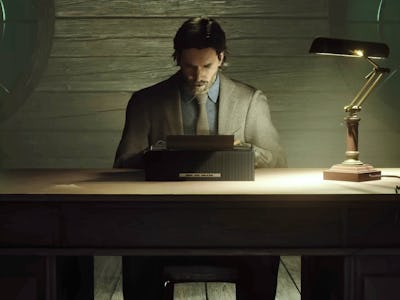 Remedy Entertainment
After 13 years of waiting, the sequel to the cult classic horror game Alan Wake is just around the corner. It's clear Remedy Entertainment put everything it has into Alan Wake 2, making it the studio's most ambitious game to date. Of course, it's also Remedy's first true take on survival horror, a genre that's seen a massive resurgence in recent years.
With all that in mind, here's everything you need to know about Alan Wake 2, including exactly when you can dive back into the eerie town of Bright Falls.
When Is the Alan Wake 2 Release Date and Time?
Alan Wake 2 releases on October 27, just in time for Halloween. Like most major releases, you'll be able to start playing at exactly 12 a.m. ET around the world, regardless of your local time. The official Alan Wake 2 Twitter account shared a handy map listing out some release times across the globe.
Can You Pre-Load Alan Wake 2?
Considering Alan Wake 2 won't have a physical release, most players will want to pre-load. Luckily, according to the PlayStation Store, pre-load will be available starting on October 25, and it will likely be the way on Xbox Series X|S.
It's not entirely clear if pre-load will be an option on PC, however, as Alan Wake 2 will launch exclusively on the Epic Game Store. While the store has occasionally offered pre-load for big releases, it doesn't always happen. Your best bet is to check EGS on October 25 to see if any pre-load options have been added. You might also want to check out the official PC requirements here, as they're pretty demanding.
What Is the Alan Wake 2 File Size?
Remedy Entertainment hasn't revealed the exact file size for Alan Wake 2 on each platform. That being said, the studio said the PC version will take up roughly 90 GB of space. Console sizes usually come in just under the PC version, but it's a good idea to have 90 to 100 GB of space clear, just to be safe.
What Are the Alan Wake 2 Pre-Order Bonuses?
Again, because Alan Wake 2 is digital-only there aren't any physical pre-order bonuses. However, if you pre-order the game on any platform, you'll get an Ornate Revolver Skin for Alan and a Survival Resources Pack for Saga. Presumably, the latter will give Saga a few extra recovery items as her chapters seem more combat and survival-focused than Alan's section.
It's also worth noting that Alan Wake 2 has a Deluxe Edition you can nab for $80, across platforms. The Deluxe Edition comes with more cosmetic items including a Lantern Charm, Nordic Shotgun skin, Crimson Windbreaker, and an Oh Deer Dinder Sweater for Saga. For Alan, you'll get a Parliament Shotgun skin and a Celebrity Suit. On top of this, you'll get access to the game's two planned DLC packs, Night Springs and Lake House.
Alan Wake 2 releases on October 27 for PlayStation 5, Xbox Series X|S, and PC.