Alan Wake 2 Blows the Door Open on the Remedy Universe
The pieces are coming together.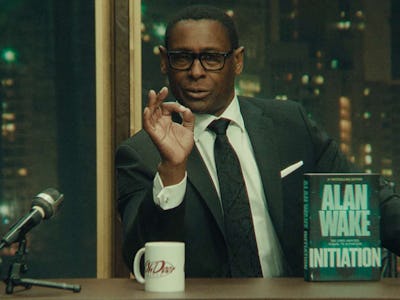 Remedy Entertainment
Alan Wake 2 is Remedy Entertainment's most ambitious game to date, boldly expanding on the already complex narrative established in the original. One of its most fascinating aspects, however, is special to Remedy as a video game studio: the connected universe
Over multiple decades, Remedy slowly pieced together a kind of multiverse encompassing most of its games, but it really took off with Control and, now, Alan Wake 2. While there's plenty of history that leads to this point — which we've covered before — Alan Wake 2 provides some fascinating clues about where the Remedy Universe could go from here, and most of it hinges on a singular character: Dr. Door.
Warning: Major spoilers will be discussed for Alan Wake 2 in this article.
Setting the Stage for Control 2
In 2020, Control released the AWE (Altered World Event) DLC, which directly connected its plot to the first Alan Wake. The expansion gave us clues as to what happened after the end of the first Alan Wake game and revealed the Federal Bureau of Control's investigation into the events in Bright Falls, even setting the stage for what happens in Alan Wake 2. Similarly, the new game lays the foundations for the next Control game.
Partway through Alan Wake 2, Saga's investigation in Bright Falls is derailed and taken over by a Federal Bureau of Control unit led by agent Kiran Estevez. We learn the FBC has been observing Bright Falls since 2010 when the events of the first Alan Wake took place.
But what's really interesting is that Estevez and her unit are cut off from FBC headquarters, which has "gone dark." Control takes place largely in October 2019, and Alan Wake 2 is set thirteen years after the original, placing it in 2023. This means Jesse Faden, the protagonist of Control, has been the director of the FBC for nearly four years.
At the end of Control, the portal that the Hiss (the supernatural threat in the game) traveled through is closed, but they still need to be purged from FBC headquarters, aka, The Oldest House. If that still hasn't happened four years later, then clearly something went terribly wrong.
Additionally, The Dark Presence from Alan Wake 2 has started leaking outside Bright Falls' borders, as evidenced by Saga's husband David, who lives across the country and now believes their daughter is dead.
These two events — the FBC headquarters going dark and the proliferation of the Dark Presence — are very likely related to some larger, supernatural threat. To that end, we see a brief video of Dr. Darling and Jesse on a TV set asking, "Are you there?" This seems to suggest the pair are trying to contact Alan. Agent Estevez also mentions that Alan is a "Parautilitarian," someone who can wield paranatural powers. Historically, the bureau takes these individuals in for the Prime Candidate Program, which trains exceptional people to take over as Director of the FBC, gathering multiple candidates to find the one most suitable.
Finally, at the end of Alan Wake 2, we learn our protagonist is still trapped in The Dark Place. Meanwhile, his wife Alice secretly traveled to the realm as well to feed Alan info to help him escape. In yet another cryptic ending, Alan learns the time loop he's subjected to isn't a loop at all but a "spiral." That detail is up to interpretation right now, but it could mean that, rather than events repeating, they're building to a climax.
That's obviously a load of cryptic details, and there are multiple theories that could explain what it all means. However, we'll likely see a team-up between Jesse and Alan, with the FBC needing the latter's help and powers to stop a greater threat. We might even have an idea of what form that threat could take.
The Curious Case of Mr. Door
Mr. Door is by far the most fascinating new piece of Alan Wake 2. He's the host of a talk show Alan finds himself forced onto in The Dark Place, and somehow, Mr. Door knows everything about the writer's life and what's happening in the real world. Then there's Sherriff Tim Breaker from Bright Falls who's transported to The Dark Place and hellbent on investigating who Door really is.
Breaker talks a lot about visions and "alternate realities," where he's seemingly lived different lives in different worlds. However, Door has always been there in every other life. Remedy Creative Director Sam Lake confirmed that Quantum Break and Max Payne aren't "officially" part of Remedy Universe, but that doesn't mean those games aren't still important.
Shawne Ashmore, who voices Breaker, also played Quantum Break protagonist Jack Joyce, and Mr. Door bears some striking similarities to Martin Hatch, a main villain of the game. Furthermore, Detective Alex Casey in Alan Wake 2 is practically a stand-in for Max Payne. Plus, Lake did Alex's face and body captures himself, and Max Payne voice actor James McCaffrey plays the Alan Wake 2 character.
This all starts to tie into the idea of a multiverse, where characters have lived other lives in other worlds, and Mr. Door could be the key to it all. In a scene near the end of Alan Wake 2, the usually jovial Mr. Door suddenly turns cryptic and almost hostile toward Alan. He says, "You keep opening doors, peeking in. Reaching through to get what you want, and that puts you in my path."
"The next time we meet, things will be very different. And you would do well to return the favor by playing your part," he continues.
Everything about Door suggests he's some kind of interdimensional entity, one that might be pulling the strings in every Remedy game. Alan playing with reality might have crossed dimensions and put whatever Door's plan is at risk.
Further, Door could be an entity thematically or morally opposed to another major character, Ahti, the janitor of the FBC introduced in Control. Ahti seems like a benevolent person who often guides Jesse, and he does the same with Saga and Alan in Alan Wake 2.
It's impossible to say for sure what direction Remedy Universe will go in as the developer's games have always been unpredictable. Still, the threads appear to set up Door and Ahti as interdimensional beings who both know things that other characters don't. The juxtaposition of these characters and their roles must be intentional, much like how Alan and Jesse's stories seem to keep crossing over. All of these characters will undoubtedly meet somewhere in the future, but the big unknowns now surround characters like Tim Breaker and Saga Anderson.
No matter how you slice it, however, it's clear that Remedy is painstakingly laying out plot elements for future plans. With four games currently in development at the studio, Alan Wake 2 might have more importance than we know right now.